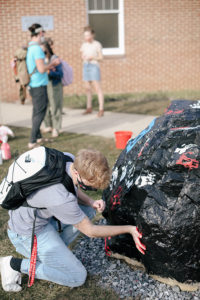 Most college campuses have longstanding traditions that tie together students from multiple generations. Lancaster Bible College is no different! During the week of March 8-12, 2021, one of these traditions was brought to the forefront again for Student Appreciation Days.
Students around the nation and across the world have faced unique challenges in 2020 and 2021. For that reason, the LBC | Capital Student Affairs team set out to show some love to students halfway through the spring 2021 semester. Several fun observances were planned, including a Spirit Day and hashtag contest at #LBCStudentAppreciation, giveaways, a food truck, special dining options, engaging activities and more.
Historically, one of those college bonding experiences was realized through the painting of the Spirit Rock. An LBC | Capital tradition for at least two decades, the Spirit Rock has seen multiple coats of paint over the years—usually the red and black Chargers colors—and allowed some graduating classes to make their mark on the campus.
Current Student Government Association President Emily "EJ" Sensenig ('24) suggested bringing the campus community together for Student Appreciation Days so current students could also leave their mark on the Spirit Rock. Sensenig hopes future spirit and appreciation events involving the Spirit Rock will show students that they leave an indelible imprint on LBC | Capital for years to come.
The Spirit Rock itself has somewhat of a storied past. LBC | Capital Director of Physical Plant Ben Stauffer ('12) remembers that the Spirit Rock disappeared for a while around 2015. At first, students and staff thought perhaps it was removed from its home at the center of campus. But actually, a group of mischievous—and resourceful—students buried the rock as a prank.
"I was mulching one day and found what I thought was a small rock under the mulch," Stauffer said. "I realized what it was and we had to use our skid loader to dig it out and roll it out of the hole. D.H. Funk & Sons [who is also working on the new Willis & Martha Herr Stadium] picked it up and moved it to its current location during the turf field project. There are a lot of layers of student experience painted on that thing!"