In May of 2014, when Damien Smucker was just 10 years old, doctors found a softball-sized tumor in his brain. In the 48 hours following the discovery of the tumor, the young boy underwent two emergency surgeries. Doctors discovered the tumor was cancerous and Damien was diagnosed with a rare type of brain cancer called primitive neuroectodermal tumours (PNET). "When he came out of surgery, the neuro-surgeon said Damien may never walk or talk again," said Damien's father, John Smucker.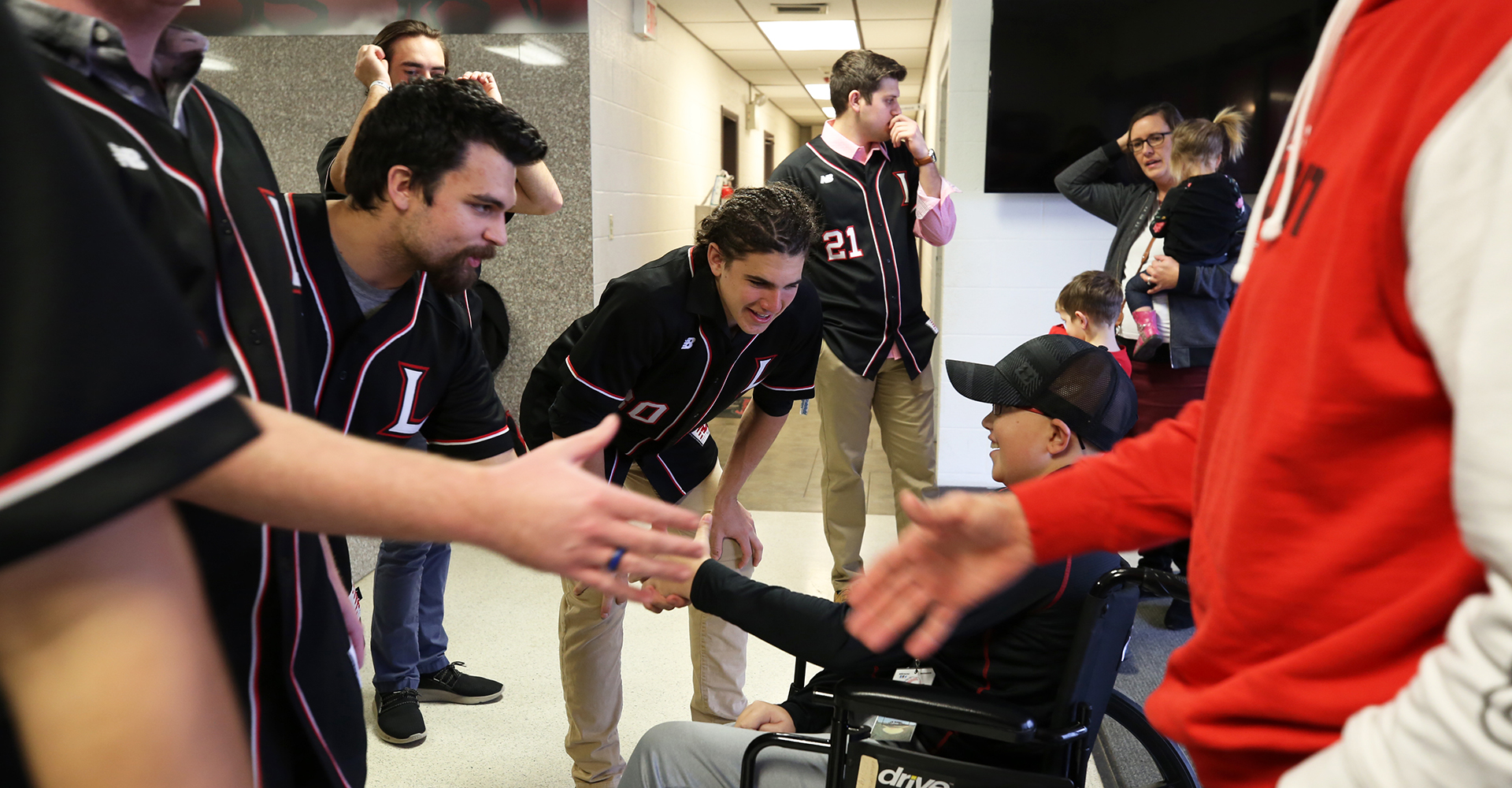 Above: Members of the LBC baseball team great the guest of honor in the gymnasium lobby.
The journey since that diagnosis has had many ups and downs as the family of eight juggled bouts of chemotherapy, endless doctor's appointments, a hopeful two-year period of remission, more hospital visits, a stint in Germany to try an experimental cancer treatment and more – but Damien's still here, four and half years later. "He's relapsed twice," explained Suz Smucker, Damien's mother. "And he's declining in health now, but he's handled the treatments well." Damien's father says his son has faced each new challenge bravely. "He has fought many hard battles with much courage," he said with pride. "And with the help of lots prayers and many hours of therapy, Damien is able to communicate again with limited speech, and he can now walk for short periods of time with assistance."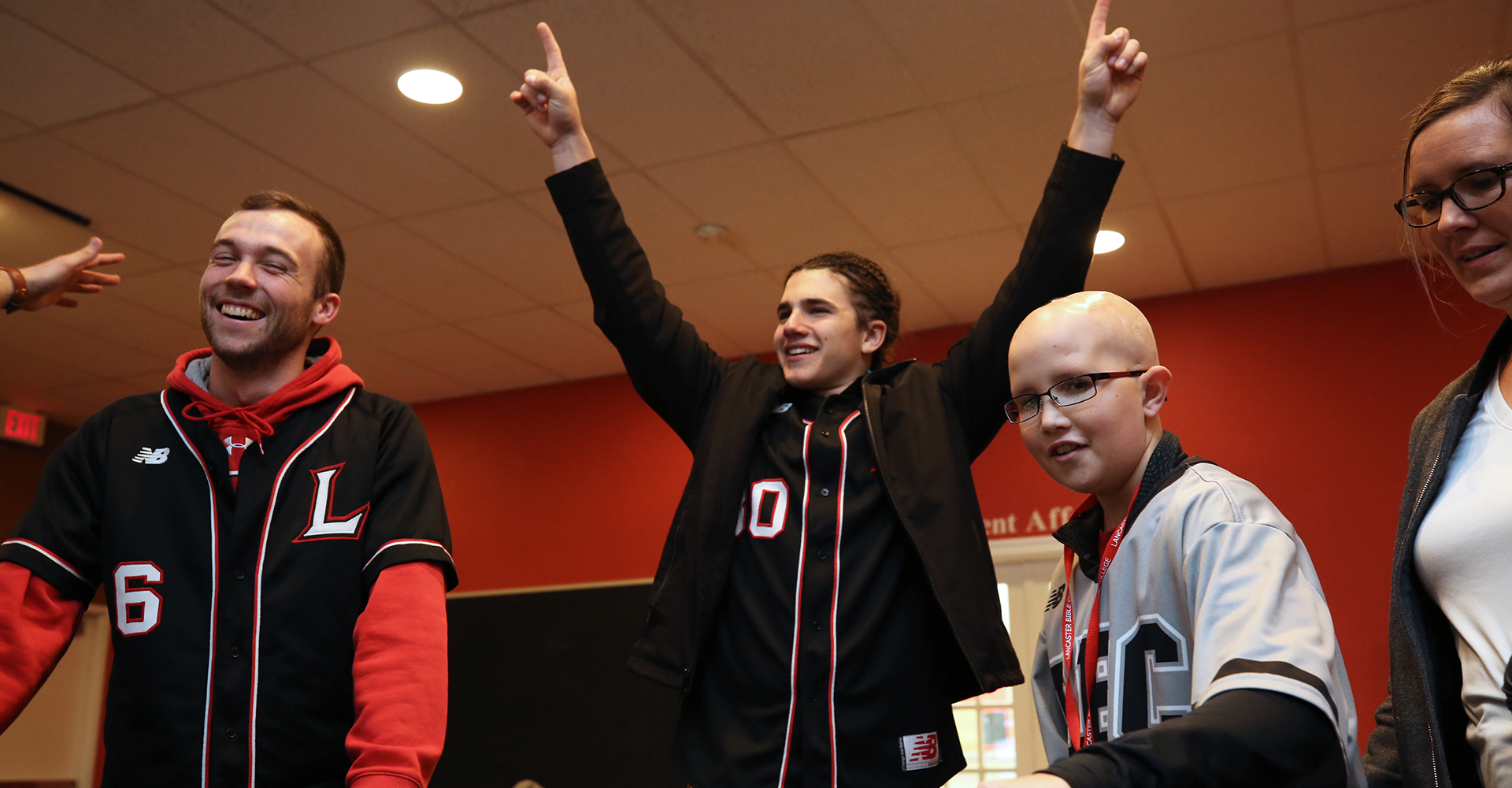 Above: Following the ceremony, Damien and the team played games in the student lounge.
In short, Damien's life is a miracle. A life-long fan of baseball – he started playing on a Little League team at age 6 – Damien had to quit his favorite sport once the cancer began to spread and affected the right side of his body. While he's not able to play on the field any more, his mom says he's still just as passionate about America's favorite pastime. He now cheers on his siblings and favorite professional teams from the stands. "Damien is his brothers' biggest and loudest fan at every game," said Suz with a smile.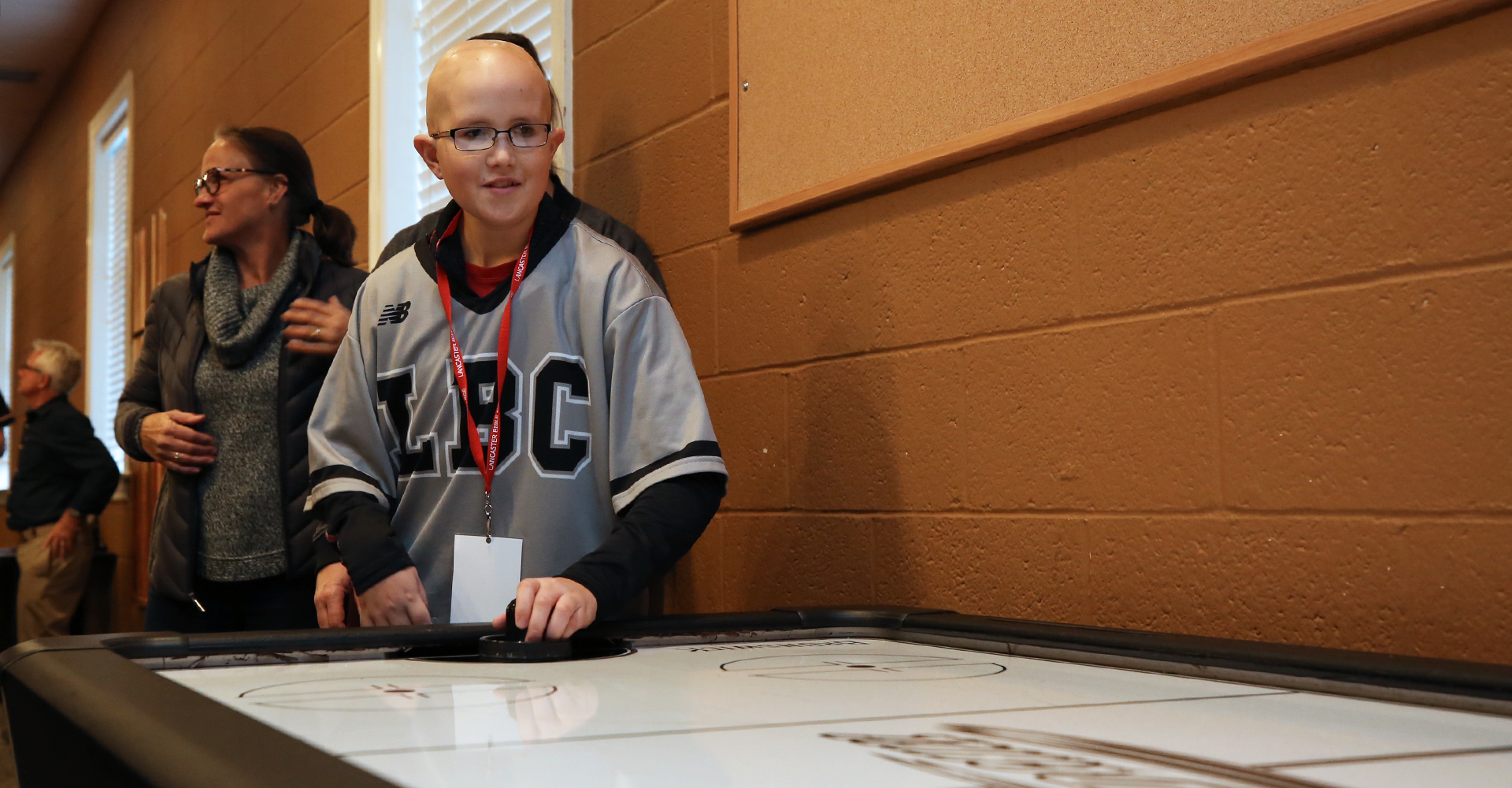 Above: Damien plays a game of air hockey with one of the members of the baseball team, donning his new jersey.
To bring a bit of cheer to Damien and his family, Lancaster Bible College's baseball team held a special ceremony for the young baseball fan. During the event, he signed a letter of intent to play baseball for the Chargers, received a customized jersey and an official press pass. A wide, shy smile spread across Damien's face as he inked his John Hancock on the letter, surrounded by the entire team who cheered him on.
Above: The Smucker family pauses for a portrait.
The team first forged a connection the Smucker family a few weeks ago. "I was sitting chapel earlier in the semester when I got a phone call from the parents' of one of my players," said Frank DiFilippo, head baseball coach at LBC. "I called the parent back and he told me a little about Damien and his story – how he loves baseball and the fight he has been going through. After that, I reached out the family to set up a day to host Damien and share our mutual love of the game." DiFilippo said the day was deeply significant to both him and the team. "Damien has left a lasting impact on our team as a whole," he explained. "Anyone that gets to spend time with Damien knows that his attitude and energy will put a lasting smile on your face. We look forward to having Damien and the Smucker family back with us for some games this season."