COVID-19 put a halt to all travel plans for many people, and Lancaster Bible College was no different. Over the past few years, LBC has been in a cycle of scheduling and cancelling trips due to the pandemic. However, in God's perfect timing, a college Journey Team traveled to New Mexico in May 2022—the first since the start of COVID-19.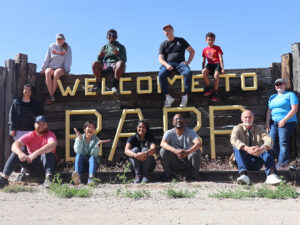 Lancaster Bible College's Journey Teams mission is to "travel to the furthest corners of the world to live out the gospel message by bringing hope to the hopeless." LBC could not be more thrilled for the opportunity to reintroduce Journey Teams and share the Word of God to a world who desperately needs Him.
This spring's trip to New Mexico allowed several students and faculty to serve alongside Native Americans. Throughout this journey, they connected with individuals, shared the gospel and assisted schools by teaching and hosting field days.
LBC Professional School Counseling major Amara Sherman ('23) said, "This trip has impacted me in ways I didn't think were possible, and I'm still processing my experience."
Amara, along with Education Professor Dr. Bob Dodson and Special Education major Kenedi Berkhimer ('23), share how the Journey Team trip to New Mexico impacted them. Read about their experience and how God spoke to them below.
LANCASTER BIBLE COLLEGE: What was your favorite part of Journey Team New Mexico trip?
BOB DODSON: Our team was able to come alongside our missionary partners who serve both the Navajo and the Zuni Pueblo (people). We were asked to plan and run field day for Rehoboth Christian School. It was a pleasure to watch the Rehoboth Christian students enjoy themselves for an afternoon of fun activities outside.
AMARA SHERMAN: It's hard to pick a favorite part of the trip, but if I had to choose one specific part, it would be running field day at Rehoboth Christian School with the elementary kids. As a school counseling student, this was way outside of my wheelhouse, but the kids were beyond excited, so I sort of just picked up the pieces and ran with it. I honestly had no clue what I was doing half the time with 40 kids running around, but when I heard them say they had a great time at the end of the day, that made it all worth it!
KENEDI BERKHIMER: There was a lot that I loved from this trip, and a big part of it was visiting schools and helping in the classrooms. I think that overall, I just loved to be in the classroom. Each school had unique students with their own stories, and I was able to be a small part of it. I may have been the one teaching students reading or math, but they were really the ones teaching me.
LBC: Describe what you learned or what impacted you from this trip.
BD: The most impactful day was when we spent the morning with Pastor Chris ministering to the homeless and elderly. We drove fairly deep into the reservation, out into the desert and took food and milk to an elderly woman who lived by herself in a shack with no running water, electricity or transportation. We learned that she must walk 45 minutes each day into the desert to fill a jug of water at a spring. Our team decided that we would take whatever water jugs we could find and fill as many of them as we could at this spring. What I learned is that the government safety nets are not enough, and without the missionaries that we worked with, many on the reservation would go without food and water.
AS: I learned SO much about the Navajo and Zuni cultures, but I also learned some facts that made my heart break on the spot. These moments were the most impactful. There was one day when we went to drop off food to an elderly lady. She was very excited to get visitors, as she didn't often see other people. It was crazy to realize that in the United States of America, we have people who have to walk to have access to running water.
KB: During this trip, God really challenged me in areas that I can meet different needs. Some needs require us to give up more or cost us something and I realized I was putting a limit on what God could call me to. Ultimately, God has a will for our lives, and I really had to keep my hands open to the possibility that He may lead me somewhere that requires me to give up a lot of comforts in exchange to selflessly meet the needs of His children.
LBC: How have you grown since participating on the Journey Team?
BD: It was hard to see that in such a rich nation, there are many that live in third-world conditions. Each time I make this trip, God opens my eyes to something new and shows me new ways I can serve those in need and expand His kingdom.
AS: I have become very much aware of all the little things I take for granted. Air conditioning. Running water in my apartment. A sturdy roof over my head. Even being five minutes away from Walmart is something that I often don't think about. The convenience of a five-minute drive down the road if I forget something is a reality that many people in my own country do not have access to. It really puts things into perspective.
KB: I always say that it never hurts to ask, and I think I have grown in that! I am learning not to be afraid to ask challenging questions and trusting that the Lord will open doors in order for me to do His will.