Throughout the 2023-24 academic year, Lancaster Bible College | Capital Seminary & Graduate School will celebrate our 90th anniversary! Here, we introduce our community to "90 Faces of LBC" each week. Keep up with all the news and events of our 90th year, read stories and more at lbc.edu/90. 
A Truck Named Clyde
---
Many LBC students from the '80s and '90s may fondly remember "the LBC Truck"—a "classmate" named Clyde. While perhaps not an official classmate, Clyde did make many appearances on campus for special events and as a participant over many years in fall parades throughout Lancaster County.
Clyde was originally purchased by the college during the presidency of Dr. Gilbert A. Peterson, to serve as a representative "icon" of the year Lancaster Bible College was founded. Just before Dr. Peterson's retirement, ownership was transferred to a local couple, George and Patricia ('08) Hauber, who both attended LBC's Biblical Enrichment Institute, and George also taught a car care course as well as several computer courses for the Institute.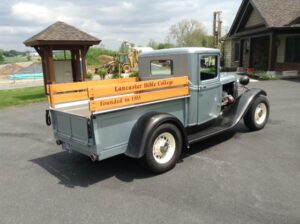 For 20 years, George serviced and maintained the 1933 Ford Model B metallic "satellite silver" pickup truck with chocolate fenders. Clyde featured its original cab, doors, lights and grill as well as the addition of custom oak bed rails, which proudly displayed that LBC was founded in 1933.
About three years ago, George sold the truck to local trucking company owner Mel Weaver, and while Mel's version of the truck no longer features the LBC oak rails, Clyde will forever remain part of the college's history. In fact, Clyde will return to campus for a special "Founder's Day" event on Sept. 25 and throughout Heritage Week leading up to Homecoming 2023 on Sept. 29-30.