Throughout the spring 2022 semester at Lancaster Bible College | Capital Seminary & Graduate School, the Alcuin Society hosted presentations by three faculty members who shared their insights, creative writing and research.

By their nature, colleges and universities are designed with critical thinking and scholarship at the core. Therefore, LBC | Capital's Alcuin Society serves as a faculty-based scholarly platform to provide professors, students and academics opportunities to share their expertise, present scholarship for peer review and engage in dialogue.
Dr. Daniel Spanjer, Professor and Chair of the Arts & Sciences Department, and Dr. Mark Draper, Director of Library Services and Adjunct Professor, joined forces during the 2021-22 academic year to offer engaging content and plan thought-provoking conversations.
"The Alcuin Society provides workshops and facilitates faculty-led discussions on topics important to our community's spiritual development," Spanjer said. "Through excellent scholarship, Bible college educators seek to balance their twin goals of thinking and living well as they seek to love God with their whole hearts and to love our neighbors as ourselves."

The first Alcuin Society gathering of 2022 was a Feb. 14 lecture from Dr. Michael Kucks, Associate Professor of Natural Sciences, titled "Life by the Numbers: Math, Science and the Finger of God." In preparation for the presentation, Dr. Kucks asked faculty and students in attendance to read Exodus 7-8, Ezekiel 28, Hebrews 9 and Genesis 28.
Additionally, the Alcuin Society is planning a special panel discussion on March 25 regarding Ukraine and Russia and featuring panelists Bill O'Byrne, a missionary in Russia from 1993-2015, Denis Tarasov ('17), an LBC alumnus who was born and raised in Ukraine, and Dr. Spanjer.
Faculty members have also compiled the following resources on this timely topic: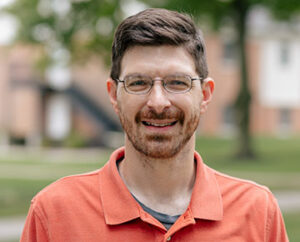 Next up this spring on April 4, Dr. Geoffrey Reiter, Associate Professor in the Arts & Sciences Department and Coordinator of Literature, will present a short story he is working to get published titled, "A Green Shade," along with a few of his published poems.
Reiter also had a haiku published in the Winter 2022 issue of Star*Line, the journal of the Science Fiction Poetry Association, and his poems, "Star Dust" and "Gilgamesh in Mourning," appeared in the Winter 2022 issue of the journal Spectral Realms.
Finishing the spring Alcuin Society events on April 11 will be Dr. Randal Pelton ('83 & '21), Adjunct Professor and undergraduate and doctoral graduate of LBC | Capital, who will present findings from his dissertation: "Introducing Illocutionary Intent-infused Meaning as a Basis for Establishing Validity in Theological Interpretation and Application Using Psalm 119 as a Test Case." His work presents the concept of illocutionary intent-infused meaning as having potential to help eliminate the historic gap between meaning and the application of Scripture. This, in turn, creates a baseline for establishing validity for application and provides clarity for the process of theological interpretation so Scripture functions for the Church.