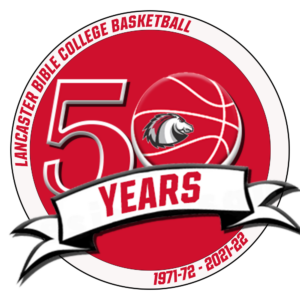 Lancaster Bible College and the Lancaster Bible College Athletic Department will celebrate 50 years of men's and women's basketball on Saturday, Feb. 5, 2022, as the Chargers welcome Penn State Abington to Horst Athletic Center for a United East Conference clash.
In conjunction with celebrating the 50th anniversary of basketball at LBC, a 50th anniversary team has been chosen for both men's and women's basketball. The teams, selected by administrators and staff at the school, will be publicly announced on Feb. 1 (women's basketball) and Feb. 3 (men's basketball), and both teams will be honored prior to their respective games on Feb. 5. Former coaches from the past 50 years will also be in attendance, including coaches from the 1970s and 80s.
In addition to the games, a luncheon for players on the 50th anniversary teams and their families will take place prior to the 1 p.m. and 3 p.m. contests. All former players and friends of the college are invited to join the celebration at the 1 p.m. (men's) and 3 p.m. (women's) games, and both games will be free of charge to all spectators.
Lancaster Bible began varsity basketball play during the 1971-72 season and generally played fellow NCCAA schools until the mid-1990s. The Chargers began playing NCAA Division III schools in the late 1990s, and became official NCAA Division III members on Sept. 1, 2010. Since joining the United East Conference (formerly the North Eastern Athletic Conference) for the 2011-12 academic year, the Chargers have enjoyed success on the court, as the men's basketball team has won two conference titles (2016 & 2018), while the women's basketball team was crowned champions in 2013. Both teams have appeared in the conference final several times as well, and have also won the NCCAA East Region title many times.
For a look back at the history of Lancaster Bible Basketball, please visit each program's history pages: Men's Basketball & Women's Basketball. If planning to attend the Feb. 5 festivities, please visit lbcchargers.com for COVID-19 mitigation policies set forth by the United East Conference.