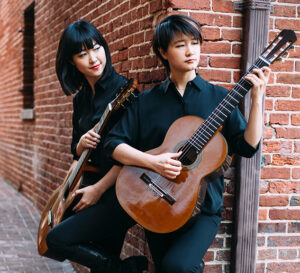 The Trust Performing Arts Center will host the Beijing Guitar Duo for an afternoon of beautiful melodies from guitarists Meng Su and Yameng Wang.
Beijing Guitar Duo is set to perform at 3 p.m. Sunday, March 6, at The Trust, 37 N. Market St. in Lancaster. Tickets are available now and can be purchased at lancastertrust.com/events.
After making its New York debut in Carnegie Hall in 2010, the Beijing Guitar Duo launched an international concert career, performing around the world in halls such as the Concertgebouw, Palau de Musica, Tchaikovsky Hall and the National Theatre in Beijing. Praised by Classical Guitar Magazine as "having the star potential to serve as inspiration for new generations of guitarists to come," Su and Wang will perform selections from Scarlatti, Piazzolla, Enrique Granados and more.
For more information, visit beijingguitarduo.com or lbc.edu/events/.
The Trust Performing Arts Center is an architecturally stunning venue for music, theatre, dance, lectures and community events in the heart of Lancaster's downtown arts district. In 1912, the Lancaster Trust Company completed construction on its new headquarters—a Beaux-Arts masterpiece from the imagination of Lancaster's leading architect, C. Emlen Urban. A century later, Mr. Urban's architectural treasure has been re-imagined by Lancaster Bible College as The Trust Performing Arts Center. The Trust has a mission to honor God by encouraging excellence in the work of student and professional artists and by enriching the community through inspiring, challenging and redemptive experiences.