A special concert at The Trust Performing Arts Center on Feb. 26 will not only provide an afternoon of uplifting and inspiring music but also benefit a very worthy cause.
Beyond Ourselves is a joint project pairing music and social outreach. The Beyond Ourselves Chamber Ensemble promotes the global work of Mennonite Central Committee (MCC) with a yearly benefit concert highlighting a specific region or need. The programming is diverse, from baroque to contemporary, including newly commissioned works.
For the 2023 concert at 2 p.m. Sunday, Feb. 26, at The Trust Performing Arts Center, 37 N. Market St. in downtown Lancaster, Beyond Ourselves Chamber Ensemble will be joined by the Aspire Chamber Choir as their guest artist.
This year's performance marks the 11th concert after several years off during the pandemic. Tickets are $25 and can be reserved at lancastertrust.com; 100% of ticket proceeds and donations at the 2023 concert benefit MCC's work in Nepal.
Members of Beyond Ourselves include the following accomplished musicians:
Rosemary Blessing serves as artistic director of the Mennonite Children's Choir of Lancaster and teaches noncredit piano at Franklin & Marshall College.
Doris Hall-Gulati is the principal clarinetist with the Chamber Orchestra of Philadelphia and bass clarinetist for Opera Philadelphia. She is a Grammy Award winner, an Adjunct Professor for woodwinds and is Director of Instrumental Studies in LBC's Music, Worship & Performing Arts Department.
Christy Kauffman performs with both the Lancaster and Reading symphonies and the Allegro Chamber Orchestra of Lancaster.
Ryan Kauffman has performed throughout the central Pennsylvania region and teaches at Millersville University.
"Even though God has gifted me with years of wonderful opportunities to perform and teach on some of the greatest stages of the world, playing with my fabulous colleagues of Beyond Ourselves and raising funds for MCC projects continues to be one of the most rewarding and satisfying experiences in my life," said Hall-Gulati.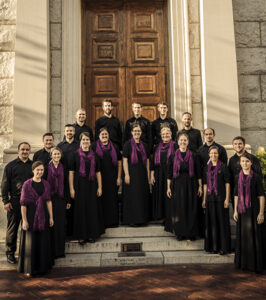 The Aspire Chamber Choir is composed of Anabaptist singers from the greater Lancaster area and seeks to glorify God through the art of singing. Having received a rich musical heritage, they desire to share the beauty of God's creation of music with classic and contemporary choral works. The choir of 18 members was formed in 2016 and is directed by Lee Weaver.
The afternoon concert, which will feature the two groups performing separately as well as together, will include a commissioned piece by Douglas Byler, composed specifically for Beyond Ourselves and the Aspire Chamber Choir. Byler is a composer and real estate entrepreneur from Virginia's Shenandoah Valley.
Mennonite Central Committee is a relief, development and peace organization of the Mennonite and Brethren in Christ churches. In more than 50 countries around the world, MCC meets basic needs for those suffering in times of war and disaster, finds solutions for people struggling to provide for their families, and encourages peacemakers who work to bring justice and understanding to conflicts in their communities.
The 2023 Beyond Ourselves concert, with the theme "Let's Go to School," will benefit the MCC Nepal Project; 100% of ticket sales and donations the day of the concert will go toward MCC's work in Nepal.
Since 2018, MCC has provided classroom materials and worked with rural schools in Nepal to increase school attendance and the quality of education. Although these schools are supported by the Nepali government, they do not receive adequate resources because of a combination of their rural location as well as a lack of voice for the marginalized ethnic minorities that live in these areas. Support of MCC's work in Nepal helps provide quality education to 1,080 students living in the Morang District as well as equips 55 teachers and 99 School Management Committee members.
This year, 11 MCC projects in Nepal focus on improving food security, mental health, access to clean water and education. Some of these initiatives include the following:
Keeping children in school: The enrollment rate of school age children in primary school is high in this area of Nepal, but many children who begin school never finish. Children tend to drop out during the long seasons of planting and harvesting, when they help their families with farm work or stay home to care for younger siblings. Students who drop out or do not pass their exams are unable to enroll in formal vocational training programs or qualify for many professional/technical jobs.
Mobilizing government resources: Teachers lack information about the educational resources that the Nepali government offers and the skills to tap into those resources. They have limited dialogues with the local government to get those resources. This project works to develop the capacity of both the teachers and the SMC members so that they are aware of the availability of government resources and can communicate with government officials to access those resources.
Safeguarding children: A range of social issues in Jahada and Letang, Nepal, impact the safeguarding of children, including the frequency of child marriage and the sale of alcohol and tobacco near school premises. According to the Education Act of Nepal, every school should have a child protection policy. Prior to this project, none of the schools in Jahada or Letang had child protection policies in place, even though they are government run schools.
During the past year, and through the work of MCC in Nepal, the following goals were realized:
Seven schools received educational and hygiene materials as needed, including notebooks, pencils, pens, crayons, scissors, markers and water filters.
Teachers received extensive training focused on how to create a child-friendly environment and make learning enjoyable by engaging children more in the learning process.
An orientation on the child protection policy was held in each school. Teachers, students in student clubs, SMC members and guardians of students were invited to these events that covered topics such as the definition of a child, child rights, issues related to child protection in the schools and the significance of the child protection policy.
The program for the Beyond Ourselves Benefit Concert on Feb. 26 at The Trust includes the following selections:
"Prayer Before Singing" – Don Hustad
"Angels We Have Heard on High" – Matthew Culloton
"Song of Simeon" – Sergei Rachmaninov
"And Can it Be" – Dan Forrest
"Shalom!" – Elio Bucky
"You Do Not Walk Alone" – Elaine Hagenberg
"Trio Sonata in G minor" – Georg Philipp Telemann

Grave, ma non adagio
Vivace
Largo
Allegro

"Más allá de nosotros mismos" – Ron Barnett
"Three Miniatures" – Alastair Penman

The Tortoise and the Hare
Inside Out
Double or Quits
"Trio for Piano, Clarinet, and Viola, Op. 264" – Carl Reinecke
Commissioned work – Douglas Byler
Concert attendees are welcome to bring supplies for school kits, which MCC ships around the world. School kit items include: spiral or perforated-pages notebooks (8.5 inches x 10.5 inches and 70 sheets) unsharpened pencils, ruler (flat, good quality, at least 30 cm/12 inches), 12 colored pencils (in packaging), large erasers, new black or blue ballpoint pens, small all-metal pencil sharpener (one or two holes). There will also be extra opportunities to further give financially at the concert.
For more information about the work that MCC is doing worldwide, visit mcc.org.