Thanks to an innovative partnership between Lancaster Bible College | Capital Seminary & Graduate School and Faculdade Teológica Sul Americana (FTSA) in Londrina, southwestern Brazil, more pastors and ministry leaders are earning doctoral degrees that may have once seemed out of reach.
After years of planning, accreditation processes, course design and language translations, the first cohort of 11 students began in the Fall 2022 semester. This inaugural group working toward Doctor of Ministry degrees have completed the Contextual Ministry Praxis and Innovation and Change courses and are enrolled in Formational Leadership for the Spring 2023 term.
Made up of students who are engaged in high-level ministry, the cohort represents denominational presidents, pastors of large churches, significant ministry leaders with parachurch organizations and a CEO of a global business.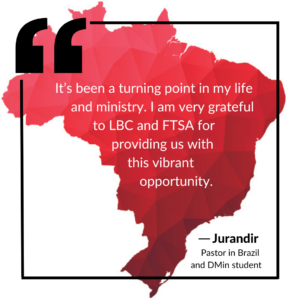 Dr. Kevin Gushiken, LBC | Capital's PhD in Leadership Program Director, taught the first course in the program.
"The students are high-caliber leaders and thinkers making a significant difference in Brazil," he said. "I was highly impressed with their ability to think biblically and critically on current issues facing the Church and society. This program will have a lasting impact on the church for years to come.
"The students are deeply engaged in the program," Gushiken added. "They are thinking through contextual issues within the Brazilian context."
In fact, during his trip to Londrina, Brazil, for the first residency gathering, Gushiken encountered a student who is familiar with other DMin programs in Brazil who is hoping to launch one at his own institution. The student affirmed that the LBC | Capital-FTSA partnership "was the best doctoral program" he has seen thus far.
Take a look at the testimonials from current faculty and students in the DMin program in Brazil:
"The DMin program by Lancaster Bible College in partnership with Faculdade Teológica Sul Americana is God's tool for advancing those who are willing to follow in the footsteps of Christ and care for His Church. Being a part of this LBC-FTSA doctoral program is self-satisfying."
—Dr. Ginalber L. O. Serra, Professor
"I thank God for the opportunity to study in the Doctor of Ministry program at Lancaster Bible College in partnership with FTSA. It is a course that seeks to enable the student to be far beyond a better leader in the Church, a Christian researcher committed to the Scriptures. The course leads the student to reflect on relevant issues around the church theologically and scientifically to serve God's Kingdom with excellence."
—Amaury Mori, Judge
"The course is fantastic! The content, methodology, professors, seriousness and commitment to the biblical and theological foundation make this a differentiated course. It is highly recommended. I'm really enjoying it. It's been a turning point in my life and ministry. I am very grateful to LBC and FTSA for providing us with this vibrant opportunity. Thank you very much."
—Jurandir Donizetti Brizola, Pastor
View photos from Dr. Kevin Gushiken's visit this summer to Faculdade Teológica Sul Americana (FTSA) in Londrina, Brazil…