Students aren't the only ones consistently learning at Lancaster Bible College | Capital Seminary & Graduate School. Faculty also head back to class regularly through LBC | Capital's Center for Teaching & Learning (CTL) to stay up to date on the latest teaching innovations and help the college remain a premier institution of higher learning that stands apart because of its biblical integration.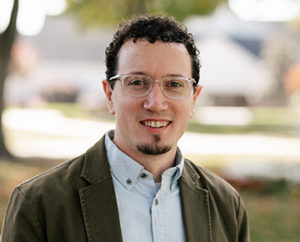 Dr. Justin Harbin, right, who serves as the Director of the Center for Teaching & Learning, has a passion to not only help LBC | Capital faculty engage in a lifetime of learning but also to share how CTL benefits both teachers and learners.
Q: When was the Center for Teaching & Learning introduced and why?
A: The Center for Teaching & Learning was introduced in January 2020, although limited services had previously been on offer under the moniker of the Office of Teaching Effectiveness since 2012. As for the "why," faculty at LBC | Capital and across the nation hold advanced degrees and experience in their subject areas but, in many cases, lack formal training for the work of teaching. The Center exists to equip the faculty of LBC | Capital as faithful Christian educators, empowering collaboration, scholarship and practice reflective of our desire to help shape students through a distinctively Christian approach to teaching and learning.
Q: What are some examples of how faculty engage in learning through the Center?
A: The Center provides ongoing training and support through collaborative semester-long groups called faculty learning communities, one-on-one consultation, classroom observations, small group instructional diagnosis, and a variety of digital and self-paced learning opportunities. Additionally, institution-wide learning opportunities, such as the two-week long 2020 Summer Institute, provide opportunities for faculty across locations to learn together.
Q: What did you discover after this Summer Institute? What were the main takeaways?
A: We found that the self-paced, digital format provided the flexibility that faculty need. We also discovered that nearly every participant identified at least one improvement to make in his or her teaching. Plus, the Institute seemed to have introduced a potential shared language for teaching and learning. Participants appreciated areas of faith integration as well, and they also shared their challenges in teaching during an unprecedented time.
Several faculty members requested that the Summer Institute format be adopted as a regular summer feature, providing feedback such as the following:
"Thank you all for your efforts in pulling together the Summer Institute. I found the material to be concise, purposeful and ultimately very helpful!"
"I want to thank you for a GREAT Summer Institute! I learned so much from the videos and your teaching."
"I just finished working my way through the two-week course, and I am so very thankful for the experience… I have picked up countless ideas and lessons to incorporate into my classes, discovered ways that I can incorporate technology into my traditional LBC classes, been challenged in areas where I can improve my instruction and encouraged in recognizing that I am doing some things already that are beneficial for my students."
Q: What are some of the future plans for the Center for Teaching & Learning, and how do you envision making an impact on how LBC | Capital faculty teach—and how students learn—in the future?
A: Although the CTL seeks to continually expand the variety and depth of learning opportunities for faculty, two key areas of growth for the near future stand out. The first includes a significantly revised and expanded process for welcoming faculty during their first year with LBC | Capital, which will include a new mentorship program pairing new faculty with experienced faculty mentors. The second includes an array of projects geared toward building the capacity of faculty to integrate our Christian faith into the learning process. These projects will likely include a variety of faculty learning communities, future Summer Institutes, digital workshops, guest speakers and even action research to explore and grow the ways we live out the LBC | Capital mission in the classroom.
This work of teaching other humans remains incredibly complex and challenging, and our faculty add to this the hard work of uncovering connections to God's good gifts of creation and redemption in every class they teach.We find our purpose in cultivating the wisdom and courage students will need to live as clear-eyed exiles in a broken world. For the LBC | Capital faculty member, it's not about what we teach but about who students are becoming. The Center for Teaching & Learning commits daily to cultivating the posture of innovation and joy for this kind of learning among faculty and students, and will continue to do so as our incredible faculty offer themselves as the "living curriculum" of our institution.