Three Free Performances of 'Repeat the Sounding Joy' Set for Dec. 2-3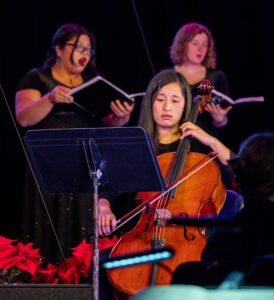 Lancaster Bible College | Capital Seminary & Graduate School will present its 2022 Christmas Concert beginning at 7 p.m. Friday, Dec. 2 in Good Shepherd Chapel on LBC's Lancaster campus at 901 Eden Road. Two additional performances are planned for 2 and 7 p.m. Saturday, Dec. 3.
An annual college tradition and community favorite, the free Christmas Concert, titled "Repeat the Sounding Joy," features several LBC ensembles in a performance that weaves together a wide variety of Advent and Christmas songs.
"Our Christmas concerts are always a highlight of the year for our student performers and audiences alike!" said LBC Director of Choral Studies Dr. Robert Bigley. "The theme of this year's concert centers on the joy we are meant to experience with the good news of Christ's birth. It will feature familiar carols with new and exciting arrangements for chorus and orchestra, as well as some jazzy a cappella arrangements performed by the LBC Chamber Singers. Our traveling worship band, MBSSY, will also be featured in some beautiful Christmas-themed contemporary songs. There truly is something for everyone in this concert!"