Students from Lancaster Bible College's Music, Worship & Performing Arts Department will present "Rodgers + Hammerstein's Cinderella: Broadway Version" this month, with the debut performance taking the stage Sept. 22 and the musical closing during LBC's Homecoming & Family Weekend on Sept. 30.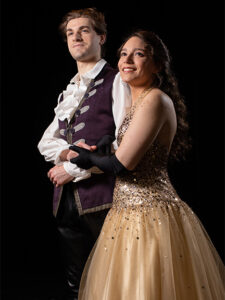 In this fairytale that has enchanted audiences for generations, we meet Ella—played by Paris Black ('25), a Musical Theatre major from Ephrata, Pa.—a poor, fatherless girl forced into servitude by her stepmother and stepsisters. When the royal family announces a ball to find a wife for Prince Topher—played by Carter Rutkowski ('23), a Musical Theatre major from Elizabethtown, Pa.—the kingdom is filled with excitement even though it is on the edge of disaster.
The Lancaster Bible College production of "Cinderella" at Good Shepherd Chapel, 901 Eden Road, includes the following show times:
Friday, Sept. 22—7 p.m.
Saturday, Sept. 23—2 and 7 p.m.
Thursday, Sept. 28—7 p.m.
Friday, Sept. 29—3 p.m.
Saturday, Sept. 30—3 p.m.
Young princes and princesses are invited to dress up as their favorite Cinderella character and meet Cinderella and her friends after the Friday, Sept. 29, show. Visit lbc.edu/events for tickets.
"I am beyond excited to portray Ella, a princess whose greatest strength is her kindness in every circumstance," Black said. "We watch her learn to believe in herself and stand up to those who have been incredibly unkind to her, but that growth and maturity never turn to bitterness, only forgiveness."
The 2013 Broadway production of "Cinderella" was based on the original Rodgers and Hammerstein musical written for television and broadcast live in color on March 31, 1957, starring Julie Andrews. The 2013 musical was nominated for nine Tony Awards and won one. The musical toured nationally, followed by several international productions.
Even though she is initially pushed away from the ball, Ella, with the help of a few surprise friends and the flick of a magical wand, finds herself at the celebration, whisked around the dance floor by an admiring Prince Topher. She races against a ticking clock to win the prince's love as the future of the kingdom rests on the outcome of the evening.
Meet the Cast and Crew of LBC's Cinderella!
Cast
Paris Black – Ella
Carter Rutowski – Topher
Hannah Lingenfelter – Madame
Ethan Goss – Sebastian
Delaney Bigley – Marie
Griselda Gomez – Gabrielle
Sydney Hersch – Charlotte
Isaac Walker – Jean Michel
Brayden Halter – Pinkleton
Ensemble
Rebecca Barker
Danielle Brady
Luke Davis
Brianna Dix
Kimberly Earl
Alex Ernst
Cadence Geyer
Dallas Good
Allyson Hunsicker
Jefferson Johnson
Joshua Moll
Elsa Rodgers
Ezekial Ruffner
Allyson Stachelek
Madison Wenndt
Production Team
Matthew Hydzik – Director
Cody Smith – Choreography
Kendra Bigley – Music Director
Jennifer Rutkowski – Producer
Mike Barker – Set Design
Phil Mcleod – Lighting
Ethan Scott – Audio 1
Vladimir Podgorodniy – Audio 2
Clara Frey – Stage Manager
Joanna Knepper – ASM/Lighting
Careth Noll – ASM/Orchestra Manager/Pit
Brianna Wilhelm – Production Coordinator
During the 2023-24 academic year, Lancaster Bible College marks 90 years of "educating Christian students to think and live and biblical worldview and to proclaim Christ by serving Him in the Church and society." We celebrate our history, our heritage and God's good work through alumni, faculty, staff and friends of LBC over many years. We rely on God's wisdom and guidance as we equip students to make a lasting impact on our world: in Lancaster, Philadelphia, Washington, D.C., online and through partnerships in Uganda, Brazil and beyond. Read stories, view videos, stay up to date on events, and learn more about the past, present and future of LBC at lbc.edu/90.