President Tommy Kiedis has appointed Rev. Timothy Torres to serve as the Pastor to the College.  The College Pastor serves the entirety of the college community, attending to the heart that drives the mission of LBC | Capital. This role encompasses the following:
Church: Help grow men and women of the church by building relationships with churches and connecting students with local churches.
Chapel: Steward the chapel vision of engaging scripture, forming disciples, and building community; and implement an evangelism training model helping us to be on mission with God in the world.
Culture: Celebrate where the college is "in step with the gospel" (Galatians 2:14) and identify, improve and build on areas where it is not.
Community: Help foster community internally within the LBC | Capital community and externally through representation and engagement.
Care: Provide biblically inclusive pastoral care across the LBC | Capital community.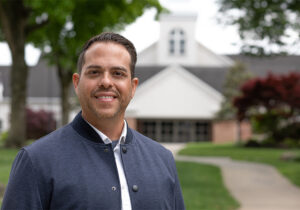 "Pastor Torres' initial approach will be listening and learning the LBC | Capital community at all locations," President Kiedis shared with faculty and staff. "I have asked him to focus particularly on diversity and belonging, utilizing a discipleship perspective 'alongside' of students/faculty/staff and teaching on key terms from a biblical perspective. The Pastor to the College functions as a 'prophet' to speak truth to LBC | Capital, a 'priest' to care and intercede and, in a kingdom fashion, to lead the effort defending those who might easily be neglected."
Born in Manhattan (NY), Torres is a third-generation pastor from south Florida with 20 years of experience leading and growing church initiatives. He was the Kingdom Platform Pastor at Spanish River Church in Boca Raton, Fla., and prior to that the executive pastor of Christ Covenant Church.
"I am excited to join the LBC | Capital team as we pursue living in line with the truth of the gospel. I look to continue LBC | Capital's long legacy of preparing people to live in their calling and to strengthen the bonds of unity," Torres said. "Students, I am praying for you in three areas as you pursue your education. First I'm praying for clarity, that you will have a clear understanding what God wants you to do. I'm praying for boldness, that you will be brave in overcoming any obstacles that may hinder you from accomplishing your goal. Finally, I am praying for your joy, that you will experience the abundant life that Jesus promised by following Him."
Torres holds a bachelor's degree in psychology and a Master of Divinity degree from Knox Theological Seminary and Lamp Theological Seminary. He serves on the executive board the Haiti Hope Alliance providing leadership development, orphan care and church planting. Torres has also developed initiatives in human trafficking prevention. In addition, he has been recognized by the Florida Governor's office for his work in foster care and community development.
Timothy and his wife, Tiona, are the parents of Elijah, Naomi, who will be a member of the LBC freshman class in the fall of 2022, and Asher.
LBC | Capital looks forward to welcoming Pastor Torres and his family to LBC | Capital in August.