Leonard "Brent" Good has "good" reason to celebrate in 2021! He's a December 2020 graduate of Lancaster Bible College | Capital Seminary & Graduate School in the online program to earn his bachelor's degree in Biblical Studies. Throughout his full-time studies, Brent also worked full time and was a very full-time parent to his seven children along with his wife, Jodi. And he maintained a 3.98 GPA! Way to go, Brent!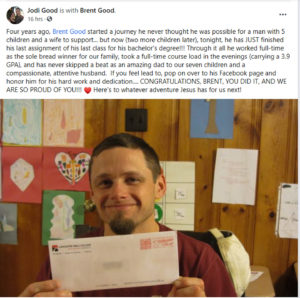 Standing behind him all the way was his loving family. As evidence, check out the social media post from his supportive wife.
Q: How does it feel to be graduating after four years and with so much going on in your life?
A: There is such a tremendous feeling of accomplishment in finally getting to this point. Every stage in life feels like it will last forever when we are walking through it, but afterward it seems like it went by in a flash. My school journey has been full of hard work and a tremendous amount of change.
When I began to explore the idea of a college degree, I was a commercial construction supervisor in central Pennsylvania with a wife and five children. Now, at the completion of my degree, I live in a very remote region of central West Virginia with seven children and a small sawmill and construction business.
I am excited to have completed this step in my life and am looking forward to what God has for the next season of life.
Q: Tell us about life in Normantown, West Virginia. What is your occupation and please share a little more about your family.
A: Life in our region of West Virginia has been a huge adjustment from where we lived in central PA. We moved into this area so we could have more land for our family and live a more rural kind of life. We have found a great church family here at First Baptist Church of Grantsville. The sense of community here is remarkable, as people are truly invested in each other's lives.
When we moved down here, we were unsure about what life would look like, but we had a definite sense of God's leading. My wife and I have walked a challenging road in our marriage and want to help others who are at a crisis point in their own marriage relationships.
Q: Why did you want to get your degree at this stage in your life? Why did you choose LBC | Capital?
A: When I made the decision to pursue my degree, I was unsure where to look for a quality education. In my mid-30s with a large family, I didn't want to spend a lot of time in a classroom setting. Initially, I was expecting that I would have to make some drastic changes in my life to facilitate the school journey. As I explored the accelerated program at LBC | Capital, I realized that it was possible to get a great, Christ-centered education without having to completely restructure my life. After visiting the campus and talking with some of the staff, I told my wife that I just didn't have any interest in looking at any other schools. LBC | Capital was simply the place where I felt comfortable that I would be able to express my Christian values in every class interaction.
Q: Why was LBC | Capital's online program the right choice for you? How did the structure help you realize your goal to earn your degree?
A: The online program from LBC | Capital was a perfect fit for my busy life. Because there is tremendous flexibility, I was able to find a rhythm with my family that allowed me to prioritize relationship with my kids and fit school around that goal. Having been home-schooled, I was already familiar with the idea of making my own educational routine. My experience with the online program at LBC | Capital was overall a very positive one. I have done schoolwork in some very diverse places over the past few years—everything from creating a history presentation on our beach vacation, Bible classes done from a hospital room after two of my children were born and writing many papers late at night at the dining room table. There were times when I had varying schedules with my job, but my studies were flexible enough to be adapted in those situations as well.
Q: What were some of your favorite aspects of working toward your degree online at LBC | Capital?
A: The opportunity to interact with other Christians from around the world was a fascinating experience. The diversity of culture, upbringing and even theological thought were other aspects of education I did not expect but enhanced the overall experience. The in-class discussions were fruitful because I was forced to sift through my own beliefs and decide what was essential, what was preference. All my professors were so very kind, but there were a few who were especially memorable in their kind words of encouragement throughout the class. Professors Mark Menga and Chris VanBuskirk were both favorite teachers I met along the way.