If you meet with Dr. Ed Scheuerman in his office at the top of the Charles Frey Academic Center, you can count on three things:
He will give you his undivided attention.
He will ask how he can pray for you.
He won't be wearing shoes.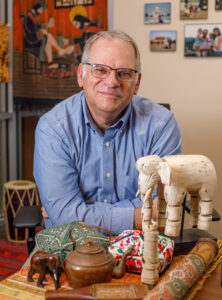 As the Director of the Intercultural Studies (ICS) major at LBC | Capital, "Dr. Ed," as his students call him, spent more than two decades in the missions field, serving alongside his wife, Carol ('15), who earned her Master of Arts in Mental Health Counseling from LBC | Capital and now serves the local community as a counselor. After earning his Doctorate of Missiology degree in 2007 from Biola University, Dr. Ed was essentially recruited to lead the Intercultural Studies program at LBC | Capital by Dr. Richard Rhoads, Church & Ministry Leadership Department Chair, and Dr. James Ayers, who completed his full-time service to the college in June and now teaches part time at LBC | Capital. Dr. Ed, who with Carol has four daughters and seven grandchildren, officially joined the college faculty on July 1, 2010.
"I saw this role at LBC as a great fit for me," he said. "I see my top three contributions as pastoral care, administration and teaching for change. Here, I get to work in and teach all three." His role consistently allows him to focus on two questions: "How do I help students better understand God's direction for their lives, and what role can I play in helping them get there?"
But what about the shoes—or lack thereof?
Simply put, he just doesn't like wearing them after spending 23 years in Southeast Asian countries. Ed and Carol served with Pioneers, a missions organization that "empowers gospel-driven Christians to go to the ends of the earth together in relentless pursuit of the unreached." Beginning in 1987, they taught English and ministered at a university in China for seven years, discipling students who came to faith, along with the pastor of a house church. The Scheuermans were then blessed to serve in Hong Kong from 1994 to 1998 as a support link to Pioneers' in-China team. During that time, Ed also served as the Southeast China Team Leader.
Then in the fall of 1997, Ed was asked to assume the role of Area Leader for South Asia/Mainland Southeast Asia to shepherd the teams from Vietnam to India. By the summer of 1998, the Scheuermans had relocated to Chiang Mai, Thailand, where they could better serve the needs of those in Southeast Asia, which included Vietnam, Laos, Cambodia, Thailand and Myanmar. His Area Leader role during this time was primarily pastoral, as he guided church planting teams and became involved in various member care ministries.
This experience helped Dr. Ed see the global need for servants like LBC | Capital graduates to go into the world to share the gospel. Along with a passion for spreading the love of Jesus, Dr. Ed also realizes that practical skills are necessary. Therefore, fall 2020 was the first semester when incoming and existing students could branch out into newly formulated specializations within the ICS major: TESOL, or Teachers of English to Speakers of Other Languages; Global Church Planting for those desiring a more traditional missionary route; Community Development, which includes social work, criminal justice and advocating for orphans or trafficking survivors; and a Business as Missions track. Several majors can also add ICS as a minor.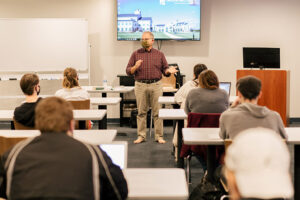 "We wanted to create a more structured way to get these classes," said Dr. Ed, while also providing students with knowledge and insight for the most relevant fields for international ministry. He added that these recent major specializations are a result of seeing how students plan specifically what they want to do and where they want to go with the ICS major.
To this end, Dr. Ed has a personal mission statement that communicates a sacredness of his calling: "To seek to glorify God by empowering my students to learn and follow God's will for their lives through the ministries of encouragement (helping them to continue what they're doing well), exhortation (challenging them to examine areas like sin, strategy, etc.) and equipping (putting the right tools in their hands)."
"In short," Dr. Ed shared, "students coming into the Intercultural Studies major can expect to develop the knowledge (head), the care (heart) and the tools (hands) they'll need to be prepared to serve the Lord cross-culturally, no matter where in the world the Lord calls them to further the Great Commission. The ICS major equips servant leaders to be effective cross-cultural communicators, compassionate examples and committed disciple-makers of Jesus Christ."
These newly focused studies within the ICS major aren't common for every undergraduate across the country, and some of the specializations are available only at the master's level. The program also includes a 150-hour internship and 150-hour practicum, which help students get closer to God's calling for their lives in a practical way. Students have completed internships and practicums in areas about which they are passionate, such as planting churches in countries where the gospel is not preached, serving in orphanages or helping those who have been traumatized by human trafficking.
Within the undergraduate courses, students delve into topics such as discipleship, evangelism, mission history, leadership, cross-cultural communication and cultural anthropology—a course Dr. Ed believes is beneficial to every student, regardless of major. Post-graduate studies have been carefully taken into account at LBC | Capital as well, with a 4+1 Master of Arts in Ministry program that enables interested students obtain a bachelor's and a master's degree in just five years total.
On campus, students engage with each other through the Student Missions Fellowship. Open to both ICS majors and non-majors—anyone who has a heart for missions work—SMF gathers on Thursday evenings on campus
Among the many students, both undergraduate and graduate, on the receiving end of Dr. Ed's guidance is Kelsey Bishop ('21), an Intercultural Studies major and SMF President. After several years working with Youth With a Mission (YWAM), Bishop became burdened for cross-cultural missions, but when her overseas missions plans fell through, she found herself at LBC | Capital in the ICS program, albeit "somewhat hesitantly."
"I wondered why I had to pay all the money and spend the time to get a degree to be a missionary instead of just going and 'being' one," Bishop said. "But this program has taught me so much that I didn't even know I needed to learn. It takes all the things that I would learn through trial and error—lots of error—on the field in 15 years and puts them into four years here at LBC.
"Dr. Ed said a sentence when I was a freshman that has been on my laptop as a reminder ever since," she added. "He said, 'If you want to make a long-term impact, you need to be willing to make a long-term investment.' The ICS program is an investment in not only my own walk with the Lord as a foundation for everything I do, but also teaches me skills in discipleship, evangelism, church planting, cultural learning, language learning, missional concepts and so much more. We are able to dive into what biblical missions is and then be challenged to begin using it here in Lancaster County or wherever God currently has us planted. It is equipping me to go long and deep for whatever God leads me to in the future, especially in cross-cultural missions."
Bishop calls Dr. Ed's guidance "invaluable" because he "lives out what he teaches us in his own life. …He teaches the concepts and lessons in a way that makes you really engage with the material and learn it well. I have seen him go above and beyond his responsibilities as a professor to disciple his students and walk alongside them in their lives, wherever God has them at the moment."
Bishop also calls SMF a "sweet picture of what the Church is to be."
"It is a place where community is formed around students who want to know and be a part of God's plan for the nations, in whatever way they are called in their lives," she said. "Some may go to unreached people groups, others may be pastors or believers who stay in the states and 'hold the rope' for the missionaries going. We are all still students in college, but I get so excited when I see our room full of students who aren't just ICS majors but future teachers, pastors, business people, counselors or social workers—all worshipping together and passionate about those who do not know Jesus Christ."
Much like Bishop, Faithe (Heuser '12) Dancey also spent countless hours in conversation with Dr. Ed during her years as an ICS major at LBC | Capital. Today, Dancey lives with her husband, Keith, in Ireland and is serving through Bible Centered Ministries (BCM) International with the children's ministry and as an administrative assistant. In addition to helping with camps and clubs, Dancey assists with BCM Ireland's newsletter, publications and events. The ICS major and her interaction with Dr. Ed were instrumental for her ministry path.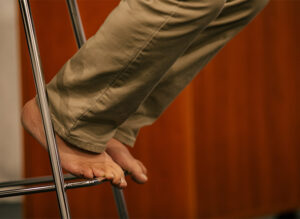 "The ICS program at LBC was excellent in preparing me for a career in ministry overseas, and even more so in my specific field," Dancey said. "It was actually through both my internship and practicum that I discovered my heart for the Irish people and a gift for administrative work. The classes I took at LBC were so pertinent for ministry today. I learned how to separate faith from culture, and that has been the biggest takeaway for me. It's helped me to reach people in a way that is culturally relevant to them while remaining biblically accurate.
"God used Dr. Ed to play a significant role in getting me where I am today," she continued. "When my overseas practicum fell through (at the) last minute, it was Dr. Ed's guidance that led me to BCM. I ended up going to Ireland with BCM for my practicum, and about a month after my debrief with Dr. Ed, I began the application process to return as a missionary. He also helped to get me set up with an internship that involved administrative work and event planning, something I really didn't want to do. But Dr. Ed encouraged me to give it a shot anyway, and I ended up finding something God has gifted me with. Even now, eight years after leaving LBC, I still contact Dr. Ed from time to time for advice when I need an unbiased opinion. Dr. Ed is a professor who is invested in his students' lives, and I'm so grateful that I got the chance to be one of those students during my time at LBC."
While Dancey was able to take part in an international trip through LBC | Capital—and Bishop hopes to before graduation—2020 has brought changes to these excursions. One popular method of travel is through Journey Teams, taking students to the furthest corners of the world to live out the gospel by bringing hope to the hopeless. Whether working at an orphanage in Haiti, helping to build a church in Jamaica, teaching English in Germany, doing sports camps in the Philippines or engaging in street evangelism in Thailand, these experiences leave a lasting impact on both places and people. But because of COVID-19, all trips since spring 2020 were canceled and are not planned to go forward through at least summer 2021.
"This was a huge disappointment to many of our students," Dr. Ed said. "A number of students depend on those trips to fill the requirements for all traditional undergraduates to engage in a cross-cultural experience." Now, he added, leadership is working to find ways students can fulfill these requirements within the United States. Likewise, the annual missions conference set for each February has also been canceled for 2021.
Disappointment over canceled Journey Teams trips is just one reason students may pop into Dr. Ed's office. They know his door is always open—and his leather flip flops will be pushed under his desk rather than on his feet. He spends countless hours across from students who sit in a chair with a well-worn pillow on the seat. He listens to their worries and anxieties, their questions about the world, their concerns about their futures and the futures of others. They also discuss classes and relationships—both with others and with Christ.
During these conversations and in his classes, there's a significant reason for being barefoot—much more than simply a dislike for shoes.
"When I'm teaching," Dr. Ed said, "I'm on sacred ground."
And at the end of every personal conversation in his office, he always asks the visitors in the chair how he can pray for them.
That, too, makes their time together something sacred.

Hear firsthand from one of Dr. Ed's students, Chantal Peterson '23, in an email to her professor that she titled, "…and then it all made sense!" Use the QR code reader on your phone to read about Chantal's cross-cultural worship experience over Thanksgiving break. Read more…