College alumni have firsthand knowledge about the unique personality of their alma mater. For that reason, Lancaster Bible College | Capital Seminary & Graduate School relies on its thousands of alumni across the country and around the world to help bring new students to the college so they can also learn, flourish and grow.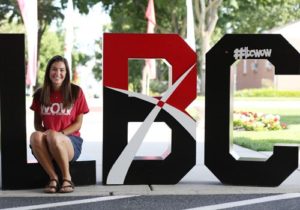 The LBC | Capital Alumni Referral Program is a win-win situation for both the alumnus and student. Graduates of LBC | Capital represent the caliber of students the college strives to equip, train and empower—and alumni can help bring these students to LBC | Capital, too. The "Each One Reach One" Alumni Referral Program gives LBC | Capital alumni the opportunity to identify mission-fit students and bless them with a scholarship to the college. When alumni refer students to LBC | Capital, the student receives a waived application fee then, upon acceptance and enrollment, a scholarship in the alumnus' name in a varying amount based upon the student's academic level.
Courtney Martin ('18) loved her time at LBC | Capital so much, she wanted others to have the same experience. That's why she referred Rylee Knepper to her alma mater, and Rylee will begin her LBC | Capital journey in August 2020.
"I had a great experience at LBC and love when I hear that others are looking to attend there," Courtney said. "I work at a camp that has a year-round leadership equipping program for high school students so I have the opportunity often to engage with high school students and share with them about my college experience. This (Alumni Referral) Program is a neat way to be able to encourage students to attend LBC, but also help to recommend students that I feel would succeed at LBC."
Courtney added that one of the standout things for her while attending LBC | Capital was the opportunity to be a part of an amazing Christian community.
"I had the chance to develop friendships with other students and with staff/professors that I still keep in contact with," she said. "I hope they have the chance to have a great education that prepares them for the future in their field of service, but also have the chance to grow in their relationship with God and with fellow Christians.
"I loved my experience at LBC and have so many fond memories," Courtney added. "LBC is where I fell in love with studying the Word of God. LBC has some of the best professors that care more about just the academic lives of students, but invite them to share life with them. If I could do the college search over again, I would choose LBC again and again, and I love that I have the opportunity to share such a positive experience with others."
The Alumni Referral Program that benefits both alumni and students consists of three simple steps:
1. REGISTER: By registering for the Alumni Referral Program, alumni take the first step toward encouraging students to attend LBC.
2. RECOGNIZE: Alumni then keep their eyes out for students they think would be a good fit at LBC | Capital.
3. REFER: If those students are interested in the college, the alumnus submits the student's information before they apply to LBC | Capital.