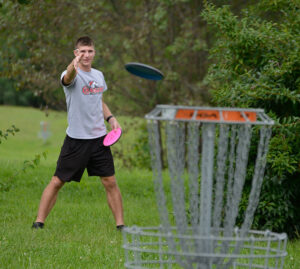 A local high school student has created a vision for Lancaster Bible College's disc golf course named Red Tail Run, which became a part of the Lancaster campus in 2020. In pursuit of obtaining the rank of Eagle Scout, Manheim Township senior Van Dvorchak is focusing his project on improving a growing attraction at LBC.
Dvorchak described the path to becoming an Eagle Scout, which begins immediately after joining a Boy Scout troop. "The process includes obtaining the required merit badges, learning and practicing leadership, being a responsible citizen, helping others in need and much more." Between planning, fundraising and implementing his ideas, Dvorchak will invest between 80 and 120 hours on the way to his goal of improving and beautifying the course.
Dvorchak's plans include renovating the tee boxes for each hole on the course. This intricate step-by-step process includes constructing wooden frames for every hole, removing dirt and leveling, placing and staking down the frames, adding crushed stone and tamping it into each box, covering the entire 6-foot-by-12-foot tee box area with turf, then completing with soil and grass seed. The Scout feels these improvements "will give each disc golfer a better throwing platform, which will be an upgrade to the existing carpet" around the tees.
The project, which Dvorchak is accomplishing with the help of LBC Facilities Manager Michael Garland, will not only benefit LBC students and staff but also the surrounding community. As he's learned more about the popular pastime of disc golf through the process, Dvorchak said he was surprised to discover that most golfers carry 10 to 20 different discs for different shot shapes, much like traditional golf.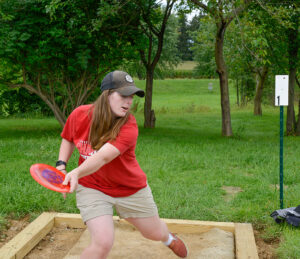 Garland added that a project involving a second future Eagle Scout will involve completing signage for tees, sponsors and directions.
Through it all, Dvorchak is thankful for the companies that have chosen to donate thus far toward upgrading the disc golf course. For the fundraising aspect, he reached out to business who have supported and worked with LBC in the past to ask for the resources necessary to complete his Eagle Scout project.
Dvorchak's life has been influenced greatly by the Boy Scouts. "Being part of the Boy Scouts has impacted my life in many ways, including seeing the need to help others, determination and leadership." These skills have shaped the person Dvorchak is becoming and are displayed throughout his project at LBC.
Once the course is completed, Dvorchak looks forward to LBC students becoming involved in his Eagle Scout project by playing disc golf on the new and improved course. Thank you, Van, for your time and effort to improve Red Tail Run at LBC!