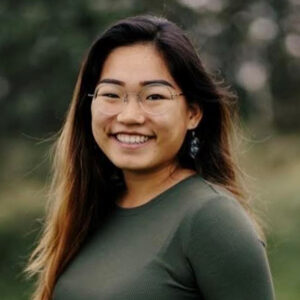 This post written by Kylee N. McGuinness ('20), right, was originally published on April 22, 2021, as she interviewed Dr. Kyle Kouterick for her Writing on Social Issues class at LBC | Capital to bring awareness to environmental issues.
Dr. Kyle Kouterick is the professor of many science classes at Lancaster Bible College | Capital Seminary & Graduate School, including Environmental Science. This is the general education class I found myself in my final semester before graduating in December 2020.
With his B.S. in Wildlife and Fisheries, and his M.S. and Ph.D. in Ecology, Kouterick has extensive knowledge about the environment as well as our interactions with it. He is funny and kind, well-liked by his students.
As his class sparked my awareness of the environment, I knew I wanted to interview him and seek his advice regarding my newfound journey of applied environmental care. Bearing the roles of Christian, scientist and educator, I knew his insight would be rich, and I looked forward to gleaning from his insight and expertise.
Post-interview, however, that insight came in a way I was not expecting. Instead of magically being equipped for personal and national resource management, I felt challenged to take a step back to examine my motives, allowing the heart of the matter to be revealed. Speaking with Kouterick began to shift my focus from myself to God, and instead of asking, "What can I do to help the environment?," Kouterick challenged me to focus on how God may be honored and glorified through our obedience to His intended design.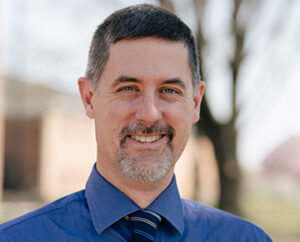 I began our interview asking, "Do you care about the environment? Why or why not?" As expected, his first answer was "yes," and he continued to share that, as Christians, we are called to be stewards and caretakers, that "we've been given responsibility as dominion over other creation."
He furthered this idea, emphasizing obedience to God's intended design in all areas of life. "I share a Christian responsibility, as a follower of Christ, to follow God's Word in that aspect as much as I follow it in other life aspects," he said.
Kouterick used the phrase "the greatest blessing" to highlight the dynamic between God's intended order and our obedience to this design. "My perspective," he said, "is I have [a] responsibility, because when I care for God's Earth, He is pleased, and with an Earth [that is] productive and available, that's what best for us as people, and that's the greatest blessing."
I found that this idea, seeking the greatest blessing, as a source of freedom and hope, especially in regard to considering my impact verses national and international companies.
One of my fellow students in the class brought attention to the concern that there will be no real environmental change unless the government enforces rules on larger companies. I found this idea to be a roadblock between the concept and application of environmental care.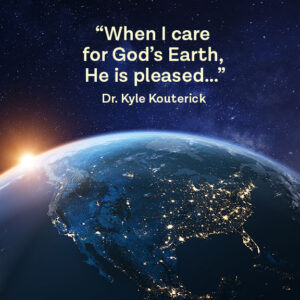 In response, Kouterick shared that our hope must be placed in God's perfect redemption and restoration that is to come. Until then, he believes God wants to reveal His love and goodness through obedience, allowing us to receive the greatest blessing.
For those who need something more concrete, Kouterick urged us not to become discouraged. He responded to my fellow student by stating that the impact of oneself will be minimal, but continued, "If I don't do anything, then I am no better than the larger corporation either. … It's going to take everyone making wise, better choices and working together to have a bigger impact."
Regarding the hyper-vigilance I felt, and you might be feeling too, Kouterick encouraged us to observe if our care for the environment has hindered or taken priority over our ability to love and serve others. If so, we have taken things too far.
"If we hold to certain principles faithfully, God is honored and we are blessed," Kouterick said. "Don't lose heart over doing something helpful or good."
Once again, I was reminded that the motive—faithful obedience to God's design—will lead to the greatest blessing overall, both for myself and future generations.
Looking for a few ways to "Go Green?" Consider these Earth-friendly ideas:
Reduce energy consumption, use cold water in dishwashers and washing machines, and line-dry clothes when possible.
Remember to recycle.
Start a garden, share your harvest and shop at local farm stands or farmers' markets.
Research and possibly replace chemical cleaners with natural alternatives.
Forego a gift or spending spree and instead support a Christian conservation ministry.
Turn off the TV and social media more frequently and spend more time outdoors appreciating God's creation.
(Suggestions gleaned from TodaysChristianWoman.com and Cru.org.)