How an LBC Partnership is Bringing Quality Higher Education to African Pastors
(Originally published December 2016; updated June 2023)
In 2015, Lancaster Bible College | Capital Seminary & Graduate School began an important and transformative partnership with a growing ministry equipping African pastors: the Pastor's Discipleship Network in Uganda. This ministry, led by LBC | Capital doctoral graduate and former Compassion child Dr. Richmond Wandera ('20), focuses on equipping African pastors to strengthen the African church. A true grassroots effort, the ministry has touched thousands of lives since its inception and continues to grow and expand its reach across the country and continent.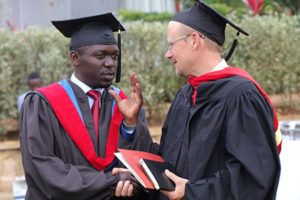 With a mission closely aligned to LBC's, the college first decided to offer the Master's of Arts in ministry degree to these eager-to-learn pastors – completely online – in March 2015, largely due to the ongoing efforts of Wandera to bring quality training to leaders in the African church. The first cohort of African students graduated in May 2017.
"We have dreamed as a ministry of a day when every district in the country has a trained teacher who is rooted in the Word to provide oversight and guidance to the Church issues in that area," said Wandera. "[With the help of LBC], that day is not far away."
Wandera's enthusiasm is shared by others. "It's such a joy to see the growth that these students are experiencing because of the high-quality education they're receiving through LBC," said Robert Blanks, LBC | Capital-PDN partnership liaison and Assistant Professor. "This program is addressing a great need that many pastors in Africa face."  According to Blanks, who spent many years serving as a missionary in Mozambique, some of the educational models used in Africa only focus on rote memorization, missing out of some of the key elements of holistic learning. "That's what's so exciting about this partnership," continued Blanks, "It's providing these students with a life-transforming education that helps them to think critically about the content they're learning and gives them the tools they need to understand and apply it in life and ministry."
It's important to note that this is all made possible by something we often take for granted: the internet. Most colleges are blanketed in high-speed wi-fi, but this isn't always the case in remote areas of other countries. Access to the internet is limited in Uganda, and getting online often requires payment. But students in Uganda find ways to complete their coursework offline, working on assignments during their commutes to work and ministry, as well as during their time on buses, at cafes and in their homes.
However, the simple fact that an LBC education is accessible to students halfway around the world who might otherwise have no other formal pastoral or ministry training is perfectly in line with the mission of the college – a fact not lost on the students who are engaged in this educational journey.
"As a Christian, this program has challenged my understanding of what it means to be a follower of Christ – being a Christian from the core to the crust." said Mark Wamala ('17), a pastor and Ugandan student who earned his master's degree through LBC's partnership with PDN. "As a student, my study skills have increased. I am able to read . . . books, analyze the flow of thoughts of writers and make personal conclusions in the light of God's word. As a pastor, I have found the materials to [be] user-friendly. I refer to them in my preaching and teaching in the church, in schools and in conferences." Wamala emphasized the importance of his online education, saying, "I can keep studying while I'm on missions."
That's always been a central goal of LBC's graduate education: to empower students to earn their degree without uprooting their lives. And thanks to many years of hard work and a collaborative effort between two organizations, LBC is able to share that life-changing education halfway across the world with just the click of a mouse.