International students who decide to call Lancaster Bible College home—whether on campus or online—have a dedicated ally in their corner.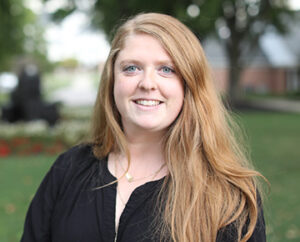 LBC's English as a Second Language Specialist Chantelle Patschke works alongside international students who may be new to the United States and speak primarily in another language.
A new part-time position created in 2022, Chantelle's role is designed for student support from the admissions phase to post-graduate, as she helps students navigate processes, find academic resources, complete sometimes complicated paperwork, adjust to cultural differences, find internships or jobs in their home countries or prepare for graduate school.
At the on-campus undergraduate level on LBC's main campus in Lancaster, Chantelle works in the college's Ally Center mainly with college-age students who have Latino, Asian or African heritage. In the global and online realm, many undergraduate and graduate students are from Asian, African or Middle Eastern countries and may speak up to 20 different languages among them.
Chantelle's professional background is both impressive and far-reaching. She has developed curriculum for low-poverty schools around the world, participated in launching nonprofits and orphanages in Africa, taught collegiate-level ESL in Hungary and Germany, and conducted leadership and professional development workshops in the York and Lancaster area school districts.
Chantelle draws upon her experiences in different ways, depending on where she meets students along their journey. For example, if she is able to start engaging with on-campus undergraduate students in their freshman year, she is able to walk alongside them throughout the entirety of their time at LBC. However, when she encounters a seminary or graduate student who begins at LBC later in life, a few more challenges may exist.
"In order to best help and understand my students' needs, establishing intentional relationships is crucial," she says. "Trust and empathy are essential for ESL students. For language skills, I start from scratch and do an assessment. This allows me to meet them where they are."
Chantelle is able to spend up to three hours per week with each student she's supporting. Each student session looks a bit different depending on the students' needs and includes topics such as coping with cultural differences, focusing on academic needs, listening to challenges and providing feedback and resources.
She has several goals to contribute to shaping the success of the ESL program at LBC, including promoting a climate that supports and sustains cultural development, developing a high-quality, standard-oriented language instruction program, creating assessments to be applied with the admissions policy, and compiling research, data and statistics to reduce the achievement gap for ESL learners.
"Because this position is new to LBC, my goal is to create a clear and coherent vision of how to best educate and serve ESL learners," says Chantelle, who speaks Spanish and German. "With a fast-growing enrollment of international students, my job involves advocating for a diverse student population, identifying ESL student needs and integrating culturally responsive strategies in the classroom."
Chantelle grew up with a unique background and was interested in other cultures from a young age. During her junior year of high school, she traveled to Spain and fell in love with the culture, music and food, and also somewhat fell into a position of teaching English as part of a church ministry. After getting her bachelor's degree in Cross-Cultural Studies and ESL at Maranatha Baptist University in Watertown, Wis., Chantelle completed an internship in Ethiopia and a teaching practicum in Guam, then went on to earn her Master of Education in Educational Leadership and Curriculum Development from Liberty University, as well as her Cambridge Certificate in Teaching English to Speakers of Other Languages—or CELTA, the most widely recognized TESL/TEFL certificate in the world—from International House in Budapest, Hungary. Overall, she's lived in or visited 15 countries.
Today, that international aspect of life is still a part of Chantelle's life and family. She teaches ESL courses part-time to a predominant Hispanic community at Reading Area Community College, volunteers as a translator for local nonprofits, and conducts professional development workshops about culture and diversity for various schools. Her husband is in the U.S. military and has had several deployments overseas. They have a 2-year old daughter who keeps Chantelle very busy, and another daughter is due in the summer of 2023.
In her busy, growing and always different role at Lancaster Bible College, the wife and mother focuses first and foremost on connection with students.
"Engaging in cross-cultural relationships not only provides opportunities to broaden perspectives but also enhances the approach to establishing connections," Chantelle says. "I immerse myself in the culture so that I can effectively support to my students."