April 23-29, 2023, is National Library Week, centering on the theme of "There's More to the Story." Lancaster Bible College's Charles & Gloria Jones Library has a "storied" history all its own. Before finding its current home in the Teague Learning Commons in 2012, the library was housed in several locations on campus, including the Student Center and even in a building in downtown Lancaster City.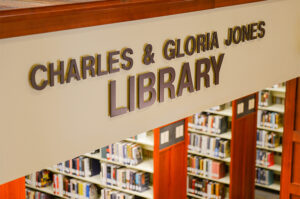 Today, with a combined total of over 500,000 items, the Charles & Gloria Jones Library on the college's main campus in Lancaster, as well as at additional LBC | Capital sites, comprises one of the largest among Bible colleges worldwide. In addition, over 300,000 shared e-books and 50,000-plus journal titles are available online to students with internet access at any location.
The library is a busy information hub, where students and faculty conduct research, where the campus and local community can check out books and explore new ideas, and where groups meet to study, read or socialize. The library is open daily for students, college employees, alumni and community members and was named after Charlie "Tremendous" Jones, a renowned motivational speaker, profound author and friend of LBC, along with his wife, Gloria. The Charles & Gloria Jones Library is a gift to the community and a resource for all who seek to study God and discover a deeper knowledge of His truths.
Among the vast collection of resources at LBC's library, visitors can also find a selection of LBC faculty-written books. Here is just a sampling to add to your National Library Week reading list:
"Every Believer Confident" by Dr. Mark Farnham
Professor in the Bible & Theology Department and Master of Arts in Christian Apologetics Program Director
Farnham published the "Every Believer Confident" video series to accompany his book by the same name. The video series was produced for church use in Sunday school classes and small groups and can be found at his website, apologeticsforthechurch.org, where visitors can also listen to his podcast. He also published "Approachable Apologetics: Defending and Sharing Your Faith," a 35-week apologetics curriculum for upper levels in Christian schools and adults in churches through Positive Action for Christ publishers.

Farnham is also the author of "Talking About Ethics," which provides students with all the tools necessary to develop a coherent approach to ethical decision-making. The authors demonstrate how various moral theories play out in relation to a wide variety of ethical questions using an accessible dialogue format.
The chapters follow three college students as they discuss today's most important ethical issues with their families and friends, including: immigration, capital punishment, legalization of narcotics, abortion, premarital sex, reproductive technologies, gender identity, the environment and many more subjects. The engaging dialogue format illustrates how these topics often take shape in the real world, as well as models critical thinking and Christian ethical decision-making.
"Keep Your Lamp Burning: Devotions to Help You Reflect God's Love, Our Faith and Purpose" by Becky Toews
Adjunct Professor in the Arts & Sciences Department
Based on Jesus' parable of the 10 bridesmaids in Matthew 25:1-13, "Keep Your Lamp Burning" encourages readers to keep shining the light of Christ in a world going through seismic changes. In the devotional, five of the women kept their lamps burning, but the other five ran out of oil and were not allowed into the banquet. "I'm concerned for believers who may be getting weary or have become confused with all the changes taking place in the world," Toews says.
"New definitions of truth and sliding standards of right and wrong are leaving many confused and apathetic, dimming the light of love, of faith and of purpose. My book hopes to reignite the flame of passion for God and replenish the oil through biblical principles and personal illustrations."
"Advent is the Story: Seeing the Nativity Throughout Scripture" by Dr. Dan Spanjer
Adjunct Professor in the Arts & Sciences Department
This collection of 25 devotional readings for the Advent season spans Genesis to the birth of Christ. Along with helpful commentaries, "Advent is the Story" encourages readers to see the Bible as the story about Christ.
Additionally, four themes central to the story of Christ's coming are developed, and six additional readings extend the celebration of Christmas through the end of December by pointing from Christ's birth to the restoration of the universe under his reign.
"Aftermath: A Book for the Spiritually Wounded' by Dr. Stephen Grusendorf"

Adjunct Professor
This is a book for those who've been burned, bruised or wounded in the Church. It's an invitation to rediscover Jesus in the aftermath—that difficult, pivotal period following a painful or disappointing church experience. In the aftermath, you may find yourself questioning your purpose ("God, what's your plan for me?"), your call ("God, do you have something different for me?") and even your faith ("God, how could you let this happen to me?").
"Aftermath" walks you through very practical steps toward hope and healing. It uses biblical examples of how God has faithfully walked alongside others who have experienced pain in ministry and service. These examples reinforce that the aftermath isn't the end of your story. It can be the beginning of something new if you're willing to work through the pain to renew your relationship with Jesus, and in turn, rediscover spiritual health.
"A War on All Fronts Revisited: 2005-2020" by Anthony Johnson

Professor, LBC | Capital – Philadelphia
Since 2005, African-Americans have accomplished monumental achievements, such as electing the first African-American president in the United States. From sports, entertainment, law enforcement and politics, African-Americans and other people of color continue to rewrite the American landscape. Black people continue to make great strides despite living in a nation where there's still individuals that view them as second class citizens and for others – not citizens at all.
"A War on All Fronts Revisited: 2005-2020" looks at the landscape of African-American life during the past 15 years in America. What accomplishments were achieved and what are the obstacles impeding future successes?
"Designed, No Less" by Dr. Kenneth Laudermilch

Adjunct Professor of Trumpet, Music, Worship & Performing Arts Department
"Designed, No Less" is the story of Kenneth Laudermilch's special-needs son from infancy to adulthood. It is a journey that parents are not initially prepared to take, but looking back, it is a path the Laudermilches would not have wanted to miss. Through it, they have seen firsthand the marvelous providence of God in the face of infirmity.
The author's hope is that their experiences and observations will encourage and prepare young parents in similar circumstances—that they, too, will witness the unmerited, unforeseen, yet undeniably magnanimous love, grace and faithfulness of God that has a way of bursting upon dark, difficult paths when least expected.

"Get Over Yourself" by Dr. James R. Love Sr.
Professor, LBC | Capital – Philadelphia
The kingdom of God may seem evasive and intangible, but Dr. James R. Love Sr. helps readers experience its present reality and future culmination in "Get Over Yourself." Both encouraging and exegetically sound, Dr. Love starts in Genesis, then travels through the Bible to teach practical principles of daily kingdom living.
His book also helps readers learn what it means to be born again, what it means to love one another, and why trouble and tribulation are doorways into the kingdom of God. Noting Jesus spent more time talking about the kingdom of God than anything else, "Get Over Yourself" help Christians die to self and start living for something more important: the eternal!
Love is also the author of "So You Want to Preach?," which is the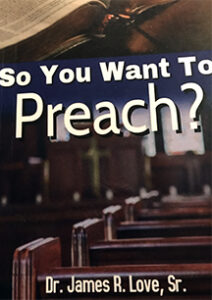 culmination of years of teaching homiletic courses at Lancaster Bible College | Capital Seminary & Graduate School, Denver Seminary (Metro Campus) and Bethel Seminary and doing many preachers' workshops. The author focuses on how to build a biblical sermon, on sound exegesis and hermeneutics.
This book is intended for experienced pastors who need to brush up on their preaching acumen, lay preachers who are just beginning to develop their skills as preachers and for those who want to know what all the fuss is about regarding preaching.

"The Dance of the Gifts" by Dr. Kenneth Quick
Professor Emeritus of Practical Theology 
Much has been written on how God speaks to us as individuals, but the bookshelves are bare when it comes to helping leaders know how God speaks to and guides a ministry. "The Dance of the Gifts: How Ministry Leaders Can Discern God's Will" seeks to help fill that gap. It enables leaders to discern God's will for their ministry in a thoroughly biblical manner by developing a better understanding of how spiritual gifts work together.
Discussion questions are provided at the end of each chapter, making "The Dance of the Gifts" a helpful resource for training ministry leaders.
"Knowing God to Make Him Known" by Dr. Ed Scheuerman

Intercultural Studies Program Director, Church & Ministry Leadership Department  
Christians are all too familiar with the dichotomy between "being a Mary" (sitting at Jesus' feet) and "being a Martha" (being active in ministry). We have been told that before we can do, we first need to be. All this is well and good, but it is insufficient. Before we can be, we first need to know. We need to know who God is so that we can then be who we are intended to be in Christ.
"Knowing God to Make Him Known" focuses on knowing God, in his many attributes, so that we can become conformed to his image, in order to do what he's called us to do to bring the gospel to the world.
"Preaching Through Time" by Dr. Casey Barton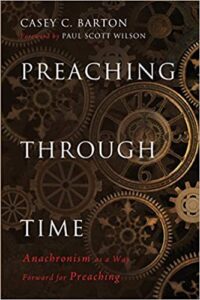 Director of Pastoral Ministries, Church & Ministry Leadership Department 
As preachers who come to the pulpit, before God and before God's people, each and every week, how do we make sense of the text as we live a new moment of its ongoing story? Most options available to the preacher necessitate a hermeneutical step that requires us to preach outside of time in timeless truths, experiences or realities. But the gospel is the drama of God appearing to and working with and loving God's people in time. Barton's "Preaching Through Time: Anachronism As A Way Forward For Preaching" gives the preacher a timely homiletic for preaching together the times of God's gospel, then and now, while calling God's people to perform their own roles in today's moment of that gospel drama. Anachronism, preaching together the moments of God's drama, is the language event that will get us from text to timely sermon, week by week.