At any given moment in time, typical college students have at least a short list of stressors affecting their life: the next big exam, a tough practice, constraints on time or apprehension about the future.
At this moment in history, Lancaster Bible College student Dana Keller ('25) also takes the typical college worries to heart, but even more significant concerns are currently front and center.
Born in Russia to a Russian father and Ukrainian mother, Dana lived in Ukraine for the three years leading up to her time at LBC. With a war raging in her home country, her family has fled Ukraine for Switzerland in search of safety, as upwards of 10 million others have done, according to the United Nations High Commissioner for Refugees and BBC.
While it can be difficult not to focus on the potential dangers facing family and friends, Dana, who speaks both Russian and Ukrainian, works to concentrate on her studies as a Criminal Justice major and on her role as a member of two Charger sports teams—all while keeping her faith at the forefront. This fall, Dana joined the LBC field hockey team, and her teammates rallied around her long after their season ended.
"We may be limited in what we can do to help those affected by the war in Ukraine," said field hockey head coach Becky Elliott. "However, what we can do is pray and be there for our teammates. We were blessed with Dana joining us in the fall, and she is a member of our LBCFH family. We are grateful that we are able to pray with her, pray for her and her family and spend time together with her."
She also plans to run long-distance track events this spring, and is immensely enjoying her Criminal Justice courses, especially those taught by Criminal Justice Program Director Dr. John Churchville. She also called her first Bible course on campus "amazing."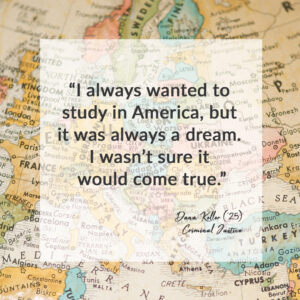 Churchville said he's been encouraged to see Dana's friends and classmates regularly pray for her and her family, invite her to meet their Ukrainian friends at church and check in with her routinely after class.
Dana's long journey to Lancaster Bible College—4,700 miles from Kyiv, Ukraine—began with her father, who today serves in missions. While living in Russia before she was born, her father longed to learn English and did so from a missionary who taught the language through Bible lessons. He then attended a now-closed seminary in Lansdale, Pa., where he met several professors who ultimately began teaching Lancaster Bible College | Capital Seminary & Graduate School.
Every four years or so, the Kellers visited churches in the United States to speak about their ministry and form supportive relationships. Dana first encountered Lancaster Bible College on one of those visits, and it was her father who pointed out LBC's Criminal Justice major. Even with that connection, Ukraine and Lancaster may seem worlds apart, not only in distance but also in culture and language.
"I always wanted to study in America," Dana said, "but it was always a dream. I wasn't sure it would come true."
That dream did come true, and Dana is thriving as a student and athlete, even though current global events may be affecting her much more personally than many college students. As news began to circulate about Russia's invasion of Ukraine in late February, Dana's friends began reaching out. Because of seemingly constant rumors of unrest in that region, Dana wanted to confirm the news herself. Once she did, she immediately called her father at 5 a.m. his time, then breathed a sigh of relief when he answered at that early hour. Her father, mother and two younger sisters were preparing to flee over a thousand miles (1,700-plus kilometers) to Switzerland to stay with extended family members. Dana had also spent time in this central European country during a gap year between high school and college.
Dana's mother's family is from Ukraine, and several aunts and uncles still live in Kyiv. In fact, one aunt made the decision to stay behind in the war-torn city to evangelize.
With so much uncertainty for the people of Ukraine, Dana knows one thing for sure—she is committed to seeing her family this summer, whether at home, in Switzerland or perhaps even in the heart of Pennsylvania in Lancaster County.
FURTHER READING:
Read the first-hand account of an LBC alumna who adopted her teenage son from Ukraine 18 months ago.