Throughout the 2022-23 Arts & Culture season, The Trust Performing Arts Center has partnered with Lancaster International Piano Festival (LIPF) for a series of concerts featuring some of the world's best musicians.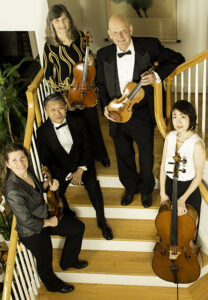 The third and final concert in the series is set for 7:30 p.m. May 5 in the Great Hall of The Trust, 37 N. Market St. in downtown Lancaster, and will feature the Gabriel Chamber Ensemble, a nonprofit organization dedicated to presenting high-quality performances of chamber music repertoire. The ensemble is comprised of Simon Maurer and Dana Allaband on violin, Agnès Maurer on viola, Ai-Lin Hsieh on cello and Xun Pan on piano.
Tickets are available at lancastertrust.com or lbc.edu/events.
Now in its 34th season in Schuylkill County, the Gabriel Chamber Ensemble offers a wide selection of chamber music masterpieces through the talented of several invited professional guest artists. The Ensemble delights its audiences with its informative and fun presentations, quality of performance and informality.
In addition to its artistic achievements, Gabriel Chamber Ensemble has initiated community and educational outreach programs to develop chamber music audiences and the musicians of the future. To further its mission, the Ensemble created the Gabriel Youth Orchestra to provide an opportunity for middle and high school students from throughout the region to play in a professionally managed and conducted setting.
The first LIPF concert in the series in October featured award-winning virtuosic prodigy Qianxiang "Daniel" Ma, a junior at Lancaster Mennonite High School who is instructed by Pan, while the second concert in February showcased cellist Hai-Ye Ni in a joint performance with Pan.