LBC | Capital hosted four graduation events over two days to honor hundreds of graduates for their achievements during a challenging year.
May 7 marked a trio of ceremonies on the Lancaster campus, where 335 students met the requirements for graduation in the Classes of 2020 and 2021.
Art Hurtado ('17) served as the Commencement speaker for all three ceremonies on May 7. Born to missionary parents in Taos, New Mexico, Hurtado earned his Master of Arts in Biblical Studies from LBC | Capital and is also a Ph.D. candidate in Biblical Studies. With an accomplished background in engineering, military, industry, technology and intelligence, he is the co-founder with his wife, Dianna, of the Hurtado Foundation, dedicated to supporting seminaries in Latin America. Hurtado was instrumental in the formation of a partnership between LBC | Capital and Faculdade Teológica Sul Americana (FTSA), a seminary in Brazil.
Then on May 8, the college hosted a ceremony in Good Shepherd Chapel for 127 graduates of the Washington, D.C., location. Commencement speaker Dr. Daniel Hyun is pastor of The Village Church in Baltimore and serves urban churches, pastors and church planters within the SEND Network.
Meaningful presentations were part of the Lancaster graduation ceremonies on May 7, as two students who passed away while working toward their degrees at LBC | Capital were honored posthumously. Joseph Masi and Larry Perry were recognized in the 2021 Commencement program, and the college bestowed their degrees to their family members.
JOSEPH ANTHONY MASI
September 16, 1993—July 18, 2018
Joseph was a young man who had a heart for God. He knew the calling on his life from a young age. His kindness and selflessness for others was certainly demonstrated from childhood until God called him home. His love for those who were different drove him to be that friend that we all desire. He had an ear to listen and his smile was infectious. He would always make you feel loved and cared about. Joseph had a love for his family, and great passion for music. He taught himself how to play guitar and shared his music talent with everyone.
Joseph would have wanted me to share with his fellow graduates that even when life takes you through struggles, if that struggle leads you to full surrender to Jesus Christ, it is good and has great purpose. We know that Jesus had the final say over his life. Even when there is victory in the struggle through Christ, there are still battles we must face and press through every day. His message would be that we need one another as brothers and sisters in Christ. Those who are truly living for Christ will encourage us, walk alongside us through the struggle and we don't ever have to feel ashamed or judged. Joseph made that difference everyday through his walk, always ready to share his testimony and his love for Jesus. God used his life to impact many others, and he lives through those lives he touched. He made his mark for Jesus, which is the only thing we take with us to eternity. Fellow graduates—whatever road Jesus takes you to in your life may HE be your focus. Maybe success should be defined as living life with God's values no matter what the cost, knowing someday we will be rewarded.
Joseph was truly blessed when he was accepted at LBC and LBC certainly impacted Joseph's life. From the moment we walked onto campus, we felt God's presence. LBC doesn't only teach God's Word, it lives it. It has been a great joy to be a part of the LBC family, because it is where I truly have seen the hands and feet of our savior, Jesus Christ.
~Linda Masi
In memory of Joseph's life, a posthumous Bachelor of Arts degree is presented to his parents, Linda and Joseph. Our prayers continue to be with the Masi family.
IN MEMORY OF LARRY D. PERRY III
January 4, 1982—January 27, 2020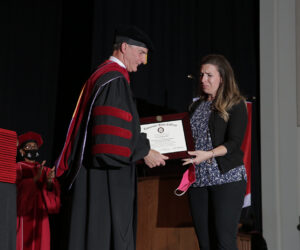 Larry Dale Perry III, of Landisville, PA, formerly of Perryville, MD, went to his heavenly home to be with his Lord and Savior on January 27, 2020. Born in Elkton, Maryland, he was the son of Larry Dale Perry Jr. and Robin (Kennedy) Perry.
Larry served in the United States Navy, serving tours in Iraq and Afghanistan. He was employed by the Department of Veterans Affairs in Lebanon, PA. As the sole survivor of an IED blast in Iraq in 2006, Larry learned to rely on his faith in God to overcome adversity during his recovery from 30 surgeries. Through his journey, he authored "A Doc's Testimony: From Injury to Ironman." Larry was a man of God who loved serving the Lord, his family and others, always with a smile on his face. His contagious smile and laughter will be missed by many.
Larry is survived by his wife, Jennifer (Caldwell) Perry; son, Levi; daughters, Lennon, Ava, and Madison, and brother, Philip Perry.
In memory of Larry's life, a posthumous Bachelor of Arts in Biblical Studies degree is presented to his wife, Jennifer. Our prayers continue to be with the Perry family.
Catch up on graduation news and resources at the links below: