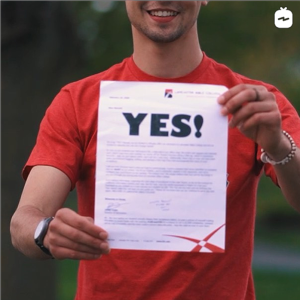 "I couldn't be more excited for the road ahead," says Benuel Lapp, pictured at right, an incoming student to Lancaster Bible College | Capital Seminary & Graduate School. In fact, he's so excited, he shared his journey through an amazing video entry to the #LBCsaidYES contest (#LBCAccepted as of Fall 2020), where students like Benuel share social media posts with their acceptance letters for a chance to win a $2,000 scholarship.
In Benuel's case, that journey included many steps along the way. "And I wouldn't be where I am today without the influence and impact of Lititz Christian School and One Life Institute (a Christian gap year program in Lancaster, Pennsylvania). But above all, I thank God for bringing me this far and walking with me every step of the way."
Benuel was the winner of one of four $2,000 scholarships to be awarded in 2020. Nathan Vigil received the February 2020 scholarship, and Hannah Lamkin won the April 2020 scholarship. Besides Benuel's in June, one more $2,000 scholarship is up for grabs this summer. Incoming freshmen can still post their own #LBCsaidYES entry through July 31; the final winner for the year will be announced Aug. 3. (Note: Please post scholarship entries to #LBCAccepted as of September 2020.)
Students are eligible to win at any time, and profiles must be public and use the hashtag #LBCAccepted to be eligible. Posts are judged based on creativity and should incorporate the student's acceptance letter in some way. Winners are selected by the college and will be contacted about how to claim their prize.
To see past entries, search for #LBCsaidYES or #LBCAccepted on Instagram or Facebook, or check out some of the 2020 entries below:
@andrewcarpenter77 describes himself as a "child of God, songwriter/producer 🎹 🎸 🎧 and a champion for Christ ⚡️ 💪🏼" and celebrated his #LBCsaidYES letter standing atop a red Dodge pickup truck.
@blondiejules27 posted a photo of herself on the lawn in front of Shepherd's Chapel. The Worship Arts major even included her beloved trumpet in the photo.
@emma.marie.w shared these touching words: "Ever since I was a little girl, I loved sitting in my room, reading stories and teaching the ABCs to my stuffed animals, knowing that when I grew up I wanted to be a teacher. I am so excited to announce that today I officially committed to Lancaster Bible College where I will finally get to make this dream come true! In the Fall of 2020, I will be furthering my academic career as I study Early Childhood Education and Biblical Studies. After much prayer and consideration, I am so thankful that God has revealed His future plans for me, and I am so happy that LBC gets to be a part of this plan. I also want to say a HUGE thank you to my admissions counselor, @lenapoff who has shown me so much love and support throughout this whole process. I wouldn't have been able to make this big decision without her! I am pumped to see what the Lord has in store for me at LBC next year!" #lbcsaidyes 🎉
@hannahpearl83 was "beyond grateful" to receive the $8,000 renewable Superior Academic Scholarship, worth up to $32,000! "I still have to audition for the Musical Theatre program itself, but this is a huge step in the direction that God has planned for my life ❤️" #lbcsaidyes
@jrhoda_17 kept it short and sweet: "I'm going to LBC!!"
@phoebe_clem2 says, "LBC offered a fastball to my future, and I think I hit it out of the park when I said YES!!" #lbcsaidyes
@saraxvarela was "blessed to announce that with God's guidance and help each step of the way, I will be attending LANCASTER BIBLE COLLEGE!! Majoring in education with hopefully a minor in family and children ministry … also meet my possible roommate💕" #lbcsaidyes
@skoontz44 adds, "So thankful for all of the blessings God has given me … but the greatest of them is found on the cross" #lbcsaidyes
@spencergrogan says he was "beyond excited" about newest journey. "God has been making big things happen in my life, and now it is time I make Him the center of my life and education. Starting in the Spring of 2020, I'll be attending Lancaster Bible College!!! I'm so beyond happy and PROUD to say #LBCsaidYES"