Internships, practicums and other opportunities for field experience are a large part of a student's journey at Lancaster Bible College, beginning as early as their freshman year. These opportunities to set their studies in motion in a practical setting help to prepare students for success after graduation.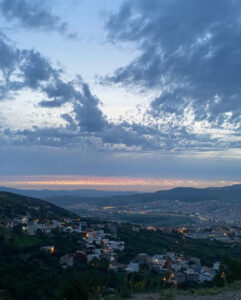 Hannah ('24), an Intercultural Studies (ICS) major at LBC, completed an internship overseas this summer, where she had the opportunity to spend seven weeks studying a dialect of Arabic. She was taught by native speakers via the "Growing Participator Approach," which is a language-learning method that is "highly auditory, interactive and steeped in the local culture."
"My teammates and I were sort of thrown right into everyday life in this culture," Hannah explained, "so when we weren't in class or studying, we were exploring the city and trying to figure out how life worked there—how to buy groceries, use public transportation and even practice our language skills by making local friends. Basically, we got to experience what it's like to begin building a new life in a totally different culture."
Hannah enjoyed the relationships that language learning made possible. She and her teammates befriended four local women their age, and she also connected with two others on her flight home who "were eager to share about their culture and even compare similarities and differences between our experiences."
The relational aspect of learning a region's local language was always one of the biggest takeaways Hannah brought home from her time overseas. Her first six weeks abroad were challenging as she struggled to put sentences together. During her final week there, however, something clicked. Hannah suddenly found herself speaking to street vendors, taxi drivers and cashiers in the native language, albeit still a bit broken as she continued her language studies.
"And not just textbook Arabic, but their own dialect," she continued. "It was like seeing a barrier come down right before my eyes. They would go from seeing me as a tourist to being filled with curiosity and even delight."
Hannah was able to connect what she learned through her internship with the material she is learning in her ICS courses at LBC. Humility is a big topic of focus within her major, "because when crossing cultures, mistakes are simply inevitable. It takes humility to be willing to potentially make embarrassing or even offensive cultural mistakes, whether with strangers we'll never see again or those we're trying to build relationships with," she said.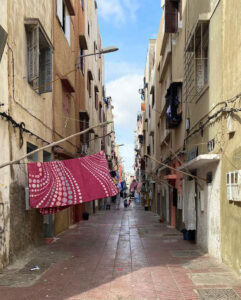 Hannah also appreciated the different viewpoints that come with experiencing various parts of the world. "Crossing cultures also stretches us to consider the world from an entirely different perspective," she said, "even accepting that at times, we might be wrong in our assumptions. Both my internship and practicum showed me the beauty of cultures that slow down and value people above time, efficiency and even productivity."
While Hannah is still contemplating how she wants to use her degree after graduating from LBC, she remains open to wherever she's led and is thankful for the cross-cultural experiences she's been able to be a part of throughout her time here.
"Being so immersed in the culture for an extended period of time gave me a glimpse of what my life could be like in a couple years," she said. "It was hard, scary and lonely at times. I saw the joys and challenges of life in a cross-cultural setting and how my strengths and weaknesses came out in that setting. I think having seen that now will help me to better prepare for the future."