(Re-posted from the Fall 2020 ECHO Magazine)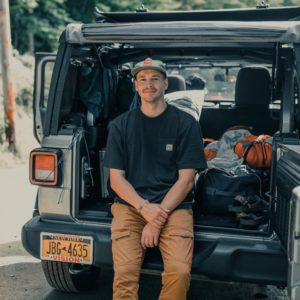 If you know Jake Ingle ('20), a LBC | Capital business major, you know his passion for photography is a big part of who he is. "I love art and creating different things," Ingle shares. "Shooting on film allows me to do that, and the process you go through to end up with a photo is so analog and methodical."
Ingle was ready to take his freelance photography to the next level by working with a business. And so, the search for the right internship began. When he saw both a tweet and a LinkedIn post about a Kodak internship, he immediately submitted his application.
After a pretty standard application process and submitting his resume, he earned the internship in the summer of 2019. It was a huge accomplishment to land a role at the globally recognized technology company, but it's not the full story.
"This whole process wasn't as simple as me just seeing a job listing and applying," says Ingle. "What people won't see is that I applied for 10 other internships the previous year and didn't get any of them. … It's not easy to trust God in the midst of the rejections."
Yet, this was the internship for him. Kodak helped to expand his perspective on the art of photography. "I've always shot digital photographs until I started my internship with film that summer," Ingle explains. "Shooting film really forced me to focus and develop good composition instead of just snapping away."
Ingle's internship entailed working with social media like Instagram, Twitter, Facebook and YouTube for Kodak's Motion Picture Division. "I was working on some campaigns with massive budgets, which is kind of scary, but mainly working with different directors and directors of photography around the world who were shooting projects on motion picture film like music videos, short films, commercials and movies," Ingle recalls. "It is honestly crazy how many things are shot on film, like 'Star Wars,' Nike commercials, Justin Bieber music videos and more, and how many people have no idea. A big part is communicating to people on social media that film still has a major impact in the industry."
He loved the internship and working for Kodak, and as he was growing in his own career through the experience, his work ethic shone through his work. "A big goal of mine during the internship was to focus and work so hard that they are going to want me to come back. Thankfully they saw that!" says Ingle.
In January 2020, Kodak offered him a permanent position as a social media coordinator. Ingle credits LBC | Capital in part for preparing him for success. "LBC | Capital really provided me with so much knowledge of working in the business world, whether it was working on marketing campaigns, developing copy, creating and executing presentations for meetings or even just developing relationships and connections with people within the company."
Ingle's story is one of capturing his passion and channeling it into a career. "I'm passionate about beautiful storytelling and working on social with Kodak—that's what it's about. Telling a story or showing someone else's story is extremely rewarding. Film strips away all the bells and whistles and focuses truly on good old-fashioned storytelling."
"God's timing is perfect, and we won't be able to see that until he blesses us with an incredible opportunity," Ingle has come to realize. "This is where faith comes in. Stay faithful, and God always comes through. His timing—not yours."