Re-posted from the Spring 2020 Issue of ECHO Magazine
What does a college do when, halfway through a semester, an unseen virus drives students off campus, cancels athletics, takes them away from "real" face-time with peers and professors, and forces them into a virtual learning environment?
"We are building a plane in the air," said Tricia Wilson, interim provost of LBC | Capital, during a faculty meeting on March 16. COVID-19 changed a lot of things for a lot of people, including the community of LBC | Capital, perhaps most drastically, its students. Against a backdrop of escalating government restrictions that affected their own families and communities, and with just over one week to prepare, the faculty of LBC | Capital got to work on the seemingly impossible task of becoming "remote ready" in all aspects by March 23—and for the remainder of the spring semester.
PUTTING STUDENTS FIRST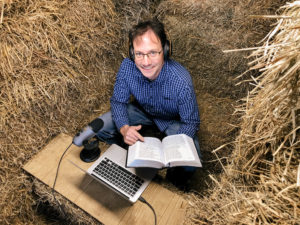 "Inside of a relatively short period of time, I lost most of the last quarter of my junior year," said Arianna Dykshoorn ('22), an Early Childhood Education major at LBC | Capital. "I lost the chance to spend time with [my roommates], the prayer retreat, the Spring Gala, an internship, a tutoring job, countless memories I would have made with friends who are now far away, and so much more." Dykshoorn also noted that with Pennsylvania's increased restrictions, her world grew even smaller, allowing her to leave her apartment only for walks and essential trips to the grocery story—something many people have experienced during this pandemic.
"This is sad. This hurts. This is not the way I wanted it to be. Grief is real, and grief is okay," she said. "But the grief, disappointment, emptiness, and loss mean nothing if they do not serve as a giant reminder that I was never meant to be satisfied with the things of this earth. [It] gives purpose to my loss."
For some students, face-to-face time with professors and classmates was already limited, as is the case for many of our doctoral and graduate students. This latest development meant making just a few more adjustments, like sharing a computer with children who are now doing their schoolwork online, too. "For us, it was life as normal, with the exception of missing out on the best part of the class, the residency," shared Leigh Ober ('21), who is pursuing her Master of Divinity.
"The bulk of our class is online, so not much has changed. Personally, I had to schedule with my 10-year-old as to who gets to use the computer for school and what times we need to be online. It's a unique thing to schedule your day with a 10-year-old who has responsibilities online now, too."
Other students were forced to cancel travel plans to campus, like Trevor M. Crenshaw ('21), a PhD student. "I had everything planned for my trip from Florence, Alabama, to Lancaster, Pennsylvania, for my time in PhD residency. I booked my flights, rental car and hotel for six days," he shared. "I pondered the things that I would say to all my cohort members upon seeing them face to face again. However, I did not plan for COVID-19 and the email I received, relaying the sudden move from face-to-face mode to remote residency via Zoom. Although I missed seeing my fellow cohort members in person, I could still see their faces, hear their voices, and dialogue with my professors and fellow cohort members through Zoom," explained Crenshaw. "Even though words cannot adequately express my appreciation for our time in residency, I thank God for LBC | Capital, my professors and fellow cohort members."
While times have certainly been difficult for many, these positive attitudes have been echoed by many in the LBC | Capital community. That spirit of hope has been summed up through the phrase LBC Together—or, online as the hashtag #LBCtogether—where students, faculty and staff have rallied together to share words of encouragement, news from the institution, participate in challenges, share updates from afar and stay in touch. Together is the only way LBC | Capital could have gotten through this.
This collective attitude of resiliency and hope, which comes from the top down at LBC | Capital, has not gone unnoticed. "In response to the coronavirus situation, [the faculty and staff of LBC | Capital] have demonstrated their commitment to our [education] and well-being," said Debbie Celeste ('23), majoring in Communication. "[I am so grateful] for the email updates, encouragement, videos, blog posts and jokes to keep the mood light." Celeste also praised LBC | Capital for coming together so quickly. "Not only is it seriously impressive that in so little time, you [worked] as a team to accomplish so many different goals—it was organizing student affairs, communicating [about the final decision for] this semester, restructuring curriculum [for] remote learning or [everything] else behind the scenes—the fact that you eagerly lend your continued support is even more impressive, and it means a lot," she said.
'WHATEVER IT TAKES'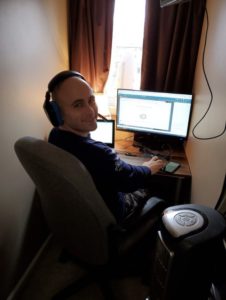 Of course, no transition is entirely seamless, but students, staff and faculty handled it with grace along the way. Everyone put in long, hard hours to become remote ready in a matter of days, sometimes working around the clock, but still problems arose. Take, for instance, the simple fact that some students don't have internet access off campus, or even a computer … two very necessary components of remote learning. So, with a servant-like attitude, LBC | Capital staff put students first. "I even delivered a computer to a student who needed it," said Dr. A. Michael Black, site director and dean of LBC | Capital's Washington DC location. "When I dropped it off, the student said, 'You are really concerned about our success and you care.' This speaks to the kind of teamwork we have [at LBC | Capital]."
And that teamwork can be found at all of LBC | Capital's locations. Janice Williams, a 71-year-old student earning her bachelor's degree at the college's Philadelphia location, can certainly attest to it. What was supposed to be a short trouble-shooting phone call with site director Rev. Zachary Ritvalsky to help set up her dated computer for remote learning became more difficult than expected. Rev. Ritvalsky refused to give up until they had found a solution. "He wouldn't hang up until I could get completely on the system," shared Williams. "I'm so grateful and blessed with the instructors and professors at the Philadelphia location. The way they work with you shows the love of Christ so prevalent[ly]."
BUILDING PLANES IN THE AIR
While students were, and are, rightly grieving the loss of time with beloved friends, important milestones and more, faculty and staff worked quickly to make services and resources available to them online, like counseling, chapel, and much more.
As Interim Provost, Wilson tasked faculty with building the proverbial plane in the air, she said confidently, "We have the technology and a great digital learning team here at LBC | Capital. COVID-19 has simply accelerated those conversations." Wilson also noted that as she saw the pandemic spread, she knew LBC | Capital was not alone in this. "All of higher education would be impacted," she said. "I started to think and ask 'How would we deal with it?' Departments had to work together in ways they have never worked together before. Discussions proceeded quickly. New procedures were put in place. The urgency of the moment made it all happen. We knew we had to resolve this."
As she saw teams come together, conflicts did occur at times but, "it was good conflict that involved the wrestling through good solutions for this need. It meant hard work together."
Faculty, both full-time and adjunct, dug deeper into technology features and modified syllabi, lecture plans and assignments for a remote ready environment, all while responding to the COVID-19 changes affecting their own families.
"This quote from Winston Churchill sums it up: 'This is no time for ease and comfort. It is the time to dare and endure,'" shared Dr. Ling Dinse, LSW, assistant professor in the Counseling & Social Work Department. "My colleagues and I worked long hours forgoing the comfort of sleep and put our heads down to create remote ready lectures. My colleagues and I dared to challenge our technology savviness. We 'dare and endure' not to demonstrate our abilities. We do so to serve our unchanging God and bring calm to our students in the midst of uncertainty."
LOOKING AHEAD
So, what lies ahead for the community of LBC | Capital? One thing's for sure: we'll continue to educate Christian students to think and live a biblical worldview and to proclaim Christ by serving Him in the church and society. We'll trust God with the rest.