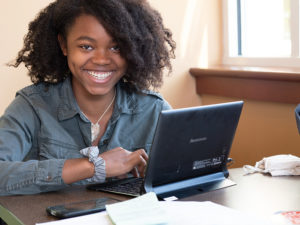 Lancaster Bible College student, athlete, massage therapist and Civil Air Patrol Cadet Captain Jurnee Acosta ('24) has many different titles.
A sophomore Healthcare Management major, Acosta was presented the Amelia Earhart Award at the Lancaster Municipal Airport this academic year. Known as the third-highest cadet award to earn, Acosta completed 11 achievements in the program that challenged her leadership, character, physical fitness ability and aerospace education.
After five years and many trying moments, Acosta recalls feeling both excited and relieved when she accepted the award. "I felt a lot of gratitude," Acosta shared. "When I received the award, it really felt like a 'we' moment and not a 'me' moment."
Currently serving as the Cadet Commander of her squadron, one of Acosta's main responsibilities includes training staff members so they in turn can properly train cadets. "It can get overwhelming at times, but it is so rewarding," she remarked when reflecting on her experience. "It [has] made me grow in more ways than I can describe."
Lancaster Bible College was not always on Acosta's radar, but she felt God tugging her heart to attend a Christian college. After being persuaded by her sister, an LBC alumnus, to visit LBC, Acosta decided to attend a weekend event for future Chargers, and, as she puts it, "I've been here ever since."
By studying Healthcare Management at LBC, Acosta hopes to put her skills to use by becoming a physical therapist and massage therapist for trafficking survivors. Though she does not foresee a future in the military, she is thankful for the experiences she gained as a CAP Cadet. Acosta shared how valuable the professional experience and skills are outside a career in the military.
"I've been in CAP since 2017, and I don't regret a minute of it," Acosta said. "It's not for everyone, but if it works for you, it can be one of the greatest experiences you'll ever have."