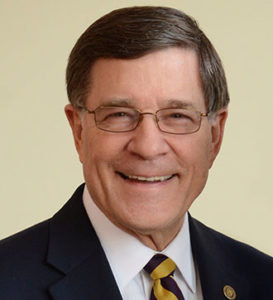 Trust is an integral element of all relationships—in marriages, friendships and families. Trust is also of paramount importance in the workplace, yet just 14% of work colleagues trust their senior leaders and their team leaders (Harvard Business Review citing the ADP Research Institute).
What's the reason for the lack of trust? And as trust levels wane in politics, business, organizations and even churches and ministries, what can be done to rebuild trust?
Lancaster Bible College | Capital Seminary & Graduate School's Church & Ministry Leadership Department and PhD in Leadership program will host a community leadership event to focus on how leaders can enhance trust in their roles as well as discover what some leaders have missed when it comes to trust.
The leadership luncheon from 11:30 a.m. to 1:30 p.m. Tuesday, Oct. 18, in Room 401 of Teague Learning Commons on LBC | Capital's Lancaster campus at 901 Eden Road, will feature Dr. Gene Habecker as the event speaker. After serving as president of Taylor University, the American Bible Society and Huntington University, Habecker is currently a Senior Fellow at the Sagamore Institute and an Adjunct Professor at LBC | Capital. He has authored numerous professional articles and five books, including "The Other Side of Leadership," "Rediscovering the Soul of Leadership" and "The Softer Side of Leadership."
Cost is $12, which includes a catered lunch. Attendees must register at lbc.edu/events by Oct. 10. Community leaders, educators, pastors and those interested in leadership are invited to attend.