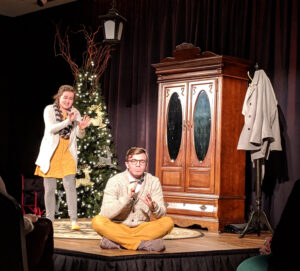 Step into the fantastic world of Narnia this holiday season to enjoy a wonderful adaptation of the classic C. S. Lewis story, "The Lion, the Witch and the Wardrobe." Opening Nov. 27 and continuing for several weekends at The Trust Performing Arts Center, the shows star four of our very own Lancaster Bible College students from the Music, Worship & Performing Arts Department: Delaney Bigley, Mackenzie Islip, Bradley Myer and Alexander Vogelgesang.
This heartfelt, 45-minute rendition is performed by a small group of actors who perform all the parts combined. The show was created by renowned Broadway actress Le Clanché du Rand, was toured by Lincoln Center, and its legacy continues locally through the Reverie Actor's Company of Lancaster.
"[It is a] classic story told in a new, exciting way," Myer said. "It's very fun and high-energy, full of the characters that you know and love from the book, with some fresh twists here and there along the way!"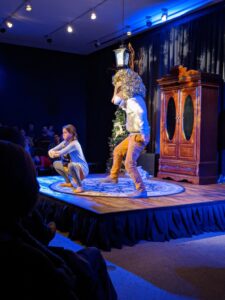 "The Lion, the Witch and the Wardrobe" is the perfect way to prepare for the holiday season and is fun for the whole family.
"Audiences can expect a captivating show that captures the magic of Narnia and brings the story of 'The Lion, The Witch and The Wardrobe' to life in a fun and fresh way," Islip added.
Performances at The Trust's Black Box Theatre are planned for the following times and dates:
11 a.m. & 1 p.m. Nov. 27
11 a.m. Dec. 4
11 a.m. & 1 p.m. Dec. 11
11 a.m. & 1 p.m. Dec. 17
11 a.m. & 1 p.m. Dec. 18