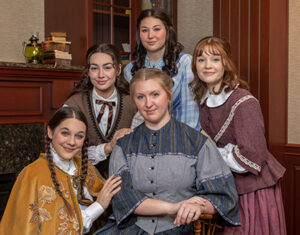 The timeless story within Louisa May Alcott's "Little Women" is familiar to millions around the world, whether through a tattered library book read in elementary school to an annual reading of this favorite classic. In February 2023, fans of this coming-of-age tale will have the opportunity to experience the lives and loves of the March sisters—Jo, Meg, Amy and Beth—in a new way, as "Little Women: The Musical" takes the stage at Lancaster Bible College.
Shows are set for the following times and dates in Good Shepherd Chapel on LBC's main campus at 901 Eden Road in Lancaster. Tickets may be reserved at lbc.edu/events.
Friday, Feb. 17—7 p.m.
Saturday, Feb. 18—2 and 7 p.m.
Friday, Feb. 24—7 p.m.
Saturday, Feb. 25—2 and 7 p.m.
Premiering on Broadway in 2005, "Little Women: The Musical" brings to life Alcott's semi-autobiographical story filled with personal discovery, heartache, hope and everlasting love. Sutton Foster, in the central role of Jo in the original Broadway production, earned a Tony Award nomination for her performance.
An aspiring writer, Jo receives rejection after rejection from publishers. Her friend, Professor Bhaer, tells her to take a risk and write from the heart. Begrudgingly, Jo creates a tapestry of the story of herself, her sisters and their experiences growing up in Civil War America.
The musical version introduces audiences to a different aspect of the telling of this beloved story by weaving in songs such as "An Operatic Tragedy," "Better," "Our Finest Dreams," "Take a Chance on Me," "Five Forever," "Astonishing," "Some Things Are Meant to Be" and "The Fire Within Me," among others.
Alcott's two-volume work, published in 1868 and 1869, has also inspired at least seven films, multiple television series and an opera.
Meet the cast, crew and musicians who will bring "Little Women" to life at Lancaster Bible College:
Cast:
Laura Aines | Marmee
Rebecca Barker | U/S Beth March
Delaney Bigley | Jo March
Paris Black | U/S Jo March
Tirzah Byers | Amy March
Ethan Goss | Laurie Laurence
Brayden Halter | Mr. Laurence
Sydney Hersch | Aunt March/Mrs. Kirk
Allyson Hunsicker | U/S Marmee, U/S Aunt March
Griselda Jiminez-Gomez | U/S Meg March
Hannah Lingenfelter | Meg March
Brad Myer | John Brooke
Careth Noll | U/S Amy March
Elsa Rogers | Beth March
Carter Rutkowski | Professor Bhaer
Crew:
Stephen Atherholt | Director
Carter Rutkowski | Student Director
Avonlea Angelino | Stage Manager
Kimi Earl | Assistant Stage Manager
Ashley Eick | Assistant Stage Manager
Clara Frey | Assistant Stage Manager
Bryanna Dix | Props Team
Damaria Quick | Student Assistant
Korri Slamans | Lighting Crew
Sarah Vogelgesang | Student Assistant
Isaac Walker | Audio
Orchestra:
Music Director | Jeffrey Martin
Tara Kenkelen | Violin 1
Anna Greiner | Violin 1
Bri Mellon | Violin 2
Elly Schulz | Violin 2
Kathleen Stevens | Viola
Sarah Ziegler | Viola
John Caldwell | Cello
Lydia Talbott | Cello
Genevieve Chapin | Bass
Doris Hall-Gulati | Reed 1
Lauren Fairfull | Reed 2
Anne Nye | Horn 1
Shari Gleason-Mayrhofer (sub) | Horn 1
Ken Laudermilch | Trumpet
Steve Shiffer | Trombone
Scott Cullen (sub) | Trombone
Katrina King | Piano
Tom Blanchard | Percussion