Do you have a passion for the performing arts but prefer to stay behind the scenes? Have you ever considered a career in live production? Whether you're interested in audio, film, recording, stage management or lighting, Lancaster Bible College's Media Arts Production program could be a great fit!
The Bachelor of Arts degree is available at LBC's main campus in Lancaster, Pa., and is also offered as a minor. Students can choose to pursue the general degree, or they can pick from one of five specializations: Audio & Music Recording, Film & Video, Live Audio, Live Video and Stage Management & Lighting.
Studying live production in LBC's Media Arts Production program gives creative Christian students the chance to become an integral part of the performing arts world. Through this program, students will receive a hands-on learning experience with state-of-the-art audio, video and lighting technology used in live events and studio production. Students even have ample opportunity to use their skills right on campus.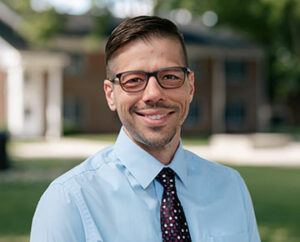 Ryan Geesaman, Academic Dean of LBC's Communication & Media Arts (CMA), Arts & Sciences and Music, Worship & Performing Arts departments, said the hands-on experience is what sets LBC's program apart from others. "Students are hands-on from the first semester," he explained. "We encourage students to explore all areas of production before settling on one to explore in greater detail. Because we have chapel services three days a week, we have the perfect lab to practice and hone production skills and teamwork."
LBC students attend chapel three times a week on the Lancaster campus, and it's the CMA students who run the show. They are operating everything from the audio, lighting and screen projectors during chapel services.
Current LBC student and Media Arts Production major, Vladimir Podgorodniy ('25), said the hands-on nature of the program is a big benefit for him. "This program definitely has more hands-on learning, where every other week you will be able to help lead chapel and grow in the ministry of tech. If you are someone that loves to be involved with the tech side of production, then this is the perfect opportunity to be stretched and to learn how to be part of a production team."
In fact, it's been one of his favorite aspects of the program so far—the ability to take what he's learning in his classes and apply it to real-life situations.
"The most enjoyable thing about the Media Arts Production program is the ability to learn the nature behind doing tech and then being able to replicate that and be put in a position to carry out that responsibility," Vladimir explained. "In this program, whatever you want to learn—audio, visual or lighting—you are able to do that."
Geesaman mentioned another aspect of the program that proves to be an asset to students. "At LBC, students are encouraged to integrate their faith and their career," he said. "Students major in both Media Arts Production and Biblical Studies, which allows us to view our discipline through a biblical lens and let our faith inform our craft."
Vladimir agrees, sharing, "I chose to go to LBC at first because I wanted to get a degree in Biblical Studies. Once I learned that I not only could get that, but also a degree in something else, I knew that I wanted to do Media Arts because I already fell in love with audio."
The dual-major program outlines several goals for students that they will accomplish by the time they walk the stage at graduation:
Integrate a biblical worldview and servant mindset into the practice and evaluation of media arts.
Demonstrate proficiency in basic production technology in audio, film/video, lighting and general electronics, as they learn to troubleshoot issues and train others.
Acquire production leadership skills, informed by a biblical and cultural understanding of the nature and the purpose of media arts production.
Develop a professional etiquette, maintain professional relationships and communicate effectively with peers, artistic teams and technical staff.
Participate in a media arts production career field to further develop skills, knowledge and experiences.
Another positive aspect students can look forward to in the program is the wide variety of experiences that professors draw from as they teach. "Students can expect to learn from Christian professors who are current professionals in the field," Geesaman explained. "Many of our professors still work in church production, concert production, events, theatre, recording and filmmaking while teaching at LBC."
With various program focuses and field opportunities, Media Arts Production graduate, Alexis Clingan ('21), said the student experience is what each individual student makes of it. "You'll be given plenty of hands-on experience, but it is your choice as to whether or not you take advantage of those opportunities," she said. "This major is what you make of it, and you need to stay curious while earning your degree."
Alexis now works as a professional Stage Manager at Sight & Sound Theatres in Lancaster, and much of her experience resulted from helping with the theatrical productions throughout her time at LBC. She was a part of six shows, including performances like "Titanic," the Sight & Sound production of "Ruth" and "Singin' in the Rain."
"I learned what it meant to be a leader as a stage manager and how to leverage that responsibility for the Lord's glory through relationships," said Alexis. "After having been a part of six productions at LBC, I learned how to design lights, document accordingly, communicate with various teams with professionalism, make design decisions, call the show, carry out a director's vision and lead a crew of technicians backstage. It is because of my work and experience as a student at LBC that I am now able to work on large-scale productions such as 'Queen Esther,' 'David,' 'Moses' and 'Miracle of Christmas' at Sight & Sound Theatres."
Like Alexis, several Media Arts Production graduates have found career success in local yet internationally known companies. In fact, several have ended up working at Rock Lititz, one of the premier production powerhouses that works with artists like Taylor Swift, Justin Bieber, Beyonce and U2 right in Lancaster County.
"I've had conversations with some of these graduates," said Geesaman. "[They] are grateful for the way their time at LBC | Capital helped to solidify their faith before they headed into a workplace where they are rubbing shoulders with people who do not share their faith."
Rock Lititz is a fast-growing production community made up of 30-plus studios that host a variety of events, from music to television to film. Through internships that turn into permanent positions, LBC students are equipped for success within Rock Lititz businesses like 4Wall Entertainment, Clair Global and Stray Production Services—just a few of the Rock Lititz "Community Companies."
Joel Lucas ('21), a Media Arts Production graduate, is loving his job within Rock Lititz. Joel is a Shop Technician for 4Wall Entertainment and helps wherever he's needed in the department. One day might involve inspecting cable, while another might focus on testing equipment. He says he especially enjoys spending time with his fellow workers because they treat him like family.
"Rock Lititz is all about production gear, touring and working with artists," Joel said. "My classes at LBC that dealt with technology like cameras, audio and lighting helped me in chapels as well as my internships and practicum. So if it wasn't for these classes that focused on production specs, I wouldn't have gotten (a position at) Rock Lititz."
Another 4Wall team member, Jack Hoover ('21) spent two months searching for a job where he could use his hands-on Media Arts training and experience. He specifically researched open positions at Rock Lititz and, in March 2022, began work as a Moving Lights Technician.
During his time at LBC, Jack was involved in a variety of on-campus Media Arts opportunities. Today in his workplace, he is surrounded daily by 40 to 50 different people from varying spiritual backgrounds than his own.
"I have had a lot of opportunities to show who Jesus is through myself," Jack said. LBC prepared Hoover with a biblical basis for his faith, and he now uses this foundation to be a "light" in the lives of his coworkers. His position encourages Jack in the importance of living a life set apart.
"Even if it's subtly," he said, "be that light."
     Read more about these Rock Lititz graduates in an ECHO Magazine article!
All in all, students in LBC's Media Arts Production program can expect to receive a hands-on education from caring professors who will prepare them for careers as audio engineers, church technology pastors, lighting engineers, live production supervisors, production managers, stagehands, technical directors and more!
"My experience at LBC has been one of growth and happiness," Vladimir concluded. "I have been poured into with a lot knowledge that has helped me understand media arts and how I can view it with a biblical worldview."