The sky may have been gray, but nothing could dampen the spirits of the Class of 2020, their families and friends during a unique drive-in graduation ceremony held on the Lancaster campus of Lancaster Bible College | Capital Seminary & Graduate School on Saturday, Sept. 26, 2020.
Originally set for May, the ceremony had been postponed due to COVID-19, making the long-awaited time to celebrate graduates' accomplishments all the more special. View the entire commencement ceremony here.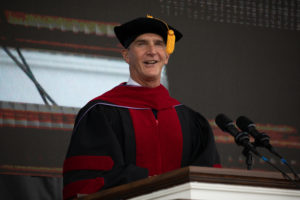 "To say that our Class of 2020's final days at LBC | Capital did not go as planned would be an understatement," wrote LBC | Capital President Dr. Thomas L. Kiedis for the 2020 commencement program. "Cross-cultural experiences were cancelled, athletic seasons cut short, events dropped off the calendar, interactions with professors and classmates moved to Zoom, and final memories on campus came to an abrupt end. And yet, they pressed on.
"Today, we celebrate these graduates and all they have accomplished," he added. "We celebrate the friendships that have been formed, skills that have been developed and life transformation that has occurred. We celebrate God's faithful work in their lives, equipping them for good works and conforming them to the image of His Son. Knowing that God truly is the same yesterday, today, and forever, we send them on the next phase of their journey in full confidence."
To open the 11 a.m. ceremony, Timothy J. Lease, Ph.D. graduate, provided an invocation. President Kiedis provided welcoming remarks and introduced the day's speaker, Joshua Beers, who spoke on "Making Your Mist Count," based on James 4:13-17 and providing 30 precepts by which to live.
Beers is the President of OneLife, a nine-month Christian gap-year program for high school graduates. Prior to his appointment, he served LBC | Capital from 2006-2020 in the roles of Vice President of Student Services, Vice President of Enrollment Management and Senior Vice President of Student Experience. Beers combined his love for sports and students by leading the men's soccer team as head coach for three years and was named two-time NCCAA East Region Coach of the Year. He is known for his heart for students—discipling, advocating, praying and laughing with them.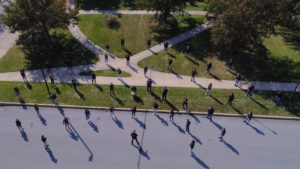 The LBC Chorale, directed by Dr. Robert Bigley, next provided special music, a selection titled "Baba Yetu," translated as "Our Father" in Swahili, by Christopher Tin.
Provost Tricia Wilson presented the candidates for graduation, as Dr. Kiedis conferred the degrees, read one by one by Registrar Katie Judy. Each graduate greeted college leaders, received red leather diploma covers and the LBC | Capital tradition of a servant's towel from President Emeritus and LBC | Capital Ambassador Dr. Peter W. Teague, plus an extra treat of a cupcake, handed out by Executive Vice President Dr. Lee DeRemer.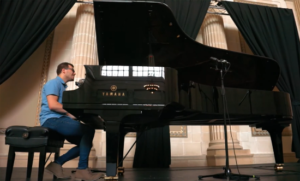 To close out the special time together, a recording of an original arrangement of the college hymn, "My Hope Is in the Lord," was performed by Jacob Huber ('20). Watch and listen here.
Vice President of Institutional Alignment Rev. Zachary Ritvalsky offered the benediction, after which graduates were encouraged to exit their vehicles and celebrate together with a confetti popper.
In all, 209 students met the requirements for graduation in the spring of 2020: 15 received associate degrees, 163 earned bachelor's degrees, 26 completed marked master's degrees and three celebrated doctoral degrees.
Throughout the commencement ceremony, several students were honored with awards, which were delivered directly to vehicles by faculty and staff. Class of 2020 award recipients include the following:
Academic Achievement
Three recognitions are based on academic achievement through the graduate's final cumulative grade point average. Red (cum laude, GPA of 3.5–3.74), white (magna cum laude, GPA of 3.75–3.89) and gold (summa cum laude, GPA of 3.9–4.0) stoles were distributed based on these academic distinctions.
Cum Laude
Maggie Arnold
Krista Beazzo
Annalise Blank
Evelina Bosovik
Paul Bulima
Fredrick Bwikizzo
Michael Christmas
Deanna Clemens
Grace Cruz
Baliraine Daniel
Jessica Davis
Casie Fisher
James Fuller
George Gobrail
Isaac Gutierrez
Grace Hackleman
Rachel Hall-Jenkins
Kenneth Hatridge
Pamela Humbert
Samantha Ingram
Brian Jjemba
Lauren Koch
Samuel Longmire
Jessica Martinez
Sossena Maybury
Amanda Metzler
Emily Morgan
Matthew Mowen
Benjamin Muller
Kylie Murray
Ben Mutegeki
Asilmwe Norman
Ronald Notice
Timothy Oakes
Cohen Peifer
Shannon Peterson
Rachel Potter
Andrew Reeser
Sara Reitz
Cameron Riggle
Teresa Rogers
Ryan Seaborn
Cheyanne Seber
Nicholas Seek
Julia Snare
Gavin Stark
Nina Statuti
Timothy Tvardzik
Ryan Zook
Magna Cum Laude
Stella Akongo
Elaiana Anthony
Ashley Broberg
Austin Burton
Sarah Decker
Ashley Denlinger
Nancy Esh
Daniel Fabrick
Lea Formica
Victoria Gehman
Terria Hopkins
Patrick Kabod
Amos Kajuga
Abigail King
Kenneth Hatridge
Michaela Landis
Anastasiya Makoyed
Dawn Martin
Nicholas Massey
Logan Miller
Medrine Nabalema
Jesse Neustadter
Melanie Noel
Otieno Nyerere
Luke Ornelas
Marissa Petery
Paulina Rodriguez Gold
Andrea Rosario
Kenneth Hatridge
Austen Smith
Alyssa Tassia
Aubrey Trayer
Orgert Vlashaj
Anneke Vosburgh
Trisha Waters
Summer Weaver
Joelle Yanello
Amanda Yerkes
Jude Zziwa
Summa Cum Laude
Kaitlyn Aston
Shannon Badger
Ashley Barr
David Blair
Madalyn Braun
Emma Charbonneau
Danny DeLeon
Lydia Dice
Stephanie Ehko
Christine Elliott
Anna Farmer
Christine Fausnight
Katherine Fleming
Richard Garrison
Donald Grafton
Sean Graybill
Benjamin Herb
Caitlin Hickey
Pamela Humbert
Martin Kakaire
Connie Kauffman
Tristan Kelley
Brian Kelsey
James Knapp
Lauren Koch
Lawrence Kuch
Lora Kumar
Ashley Logsdon
Sandra Marchini
Joshua Marcroft
Sossena Maybury
Joseph Maye
Colin McCabe
Jonathan McCarthy
Thomas Metheny
Julianne Miller
Jaclyn Moore
Grace P.
Jayder Saldarriaga Vanegas
Richard Sparling
Sharlie Taylor
Angelyn Trumbull
Raymond Yates
Lynnette Yost
Daniel Zimmerman
Jennica Zook
Delta Epsilon Chi
Membership key rings and certificates were presented to graduates who evidenced academic scholarship, Christian character and Christian leadership ability.
Maggie Arnold
Lydia Dice
Stephanie Ehko
Sean Graybill
Kenneth Hatridge
Logan Miller
Sharlie Taylor
Summer Weaver
Daniel Zimmerman
Military Service Recognition
Red, white and blue cords were worn by graduates who are veterans or active-duty members of the United States Armed Forces in recognition of their sacrificial service.
Air Force—Alexander Evans, Brian Zuschmidt
Army—Victor Correa, Richard Garrison, Devin Stern
Navy—Michael Allen
Student Affairs Involvement Awards

Student Leadership Awards: Plaques to the male and female graduates who manifested excellence in the area of student leadership evidenced by scholarship, extracurricular involvement and service to the college community—Stephanie Ehko-Brussel, Dominic Matranga
Margaret E. Uhler Servanthood Award: A cash award is given to the graduate who best exemplifies the spirit of servanthood, cooperation and involvement of Margaret E. Uhler—Tirus Twyne
Robert J. Roper Student Government Award: A cash award to the graduate displaying all-around involvement in school life—Luke Childs
Academic Departmental Awards
Arts & Sciences Department
Criminal Justice Alpha Phi Sigma Honor Society: Recognition to the graduating students who exemplify the mission and values of the LBC chapter of Pi Delta Lambda, a nationally recognized honor society for criminal justice. These students promote and exemplify the goals through academic excellence, leadership, service and unity—Michael Castelli, Eric Parke
Bible & Theology Department
Theology Award: A book provided by the Baker Book House to the graduates with the highest grade point average in theology—Madalyn Braun, Joshua Marcroft
Biblical Languages Award: A cash award provided by Timothy D. George to the graduate in Pastoral Studies who has the highest grade point average in Greek—Benjamin Herb
Business Administration Department
Business Administration Award: A cash award to the students who exhibit the six concepts upon which the Business Administration Department is built: prioritization, communication, knowledge, servanthood, self-development and stewardship—Caitlin Hickey, Rheeana Miles
Sigma Beta Delta: This honor society for students in business, management and administration serves institutions that offer baccalaureate and graduate degrees in business, management and administration where the institution holds accreditation from one of the six regional accrediting bodies but not specialized accreditation in business—Ashley Barr, Katie Fleming, Caitlin Hickey, Colin McCabe, Estiven Saldarriaga
Church & Ministry Leadership Department
Homiletics Award: A cash award provided by the Shepherd's Staff to the graduate who has demonstrated excellence in the art of preaching—Tirus Twyne
Missio Dei (Mission of God) Award: A cash award to the graduate who has committed to serve God as a missionary and who has demonstrated a love for God and a love for people through prayer, evangelism and involvement in ministry while at LBC | Capital—Madalyn Braun
Servant Leader Award: A cash award to a male and female students who, throughout their academic study, ministry service and Christ-like character, have clearly demonstrated a love for God and others throughout their time at LBC | Capital—Anneke Vosburgh, Jonathan Woodin
Communication & Media Arts Department
Communication Excellence Award: A cash award to the graduating student who has best exemplified the values of LBC | Capital by integrating a biblical worldview through the application of ethical principles and professional standards within the communication community (minimum cumulative GPA of 3.25)—Sean Graybill
Counseling and Social Work Department
The John Pugh Honorary Award for Excellence in Counseling: A cash award to the undergraduate student who has completed 30 credits and who exemplifies the qualities of a strong commitment to integration of their faith with professional practice in counseling (minimum cumulative GPA of 3.25)—Lea Formica
The Professional Counselor Award: A cash award given to the five-year accelerated program counseling student who has completed a minimum of 55 credits in counseling and demonstrates a Christ-like character of love for people and a passion for helping those in need as evidenced by community engagement and service to others—Michaela Landis
Education Department
Literacy Keys Award: A cash award and a one-year membership to the International Reading Association for the graduate who has shown knowledge, enthusiasm and a repertoire of literature and skills to help the learner unlock the written word—Kaitlyn Aston
McIllwaine Science Award: A cash award and a plaque to the graduate who has demonstrated a biblical commitment and outstanding achievement in the sciences, science education and student teaching in the sciences. The student must be enrolled in the Teacher Education Program with a minimum of 125 hours of study—Stephanie Ehko Brusse
The Master Teacher Award: A book and cash award presented by the Teacher Education Department to the graduating teacher education student who exemplifies the characteristics of the Master Teacher—Lydia Dice
Health & Physical Education Department
Excellence Award: A membership subscription to the AAHPERD or NASSM Magazine to the student who represents exemplary and innovative achievement as inspired by the life, career and character of John Wooden—Austen Smith
Worship & Performing Arts Department
Faculty Award: A cash award to the senior who exemplifies biblical standards of worship in his/her personal and professional life, effectively engaging the world through the use of his/her individual art form—Samantha Ingram
Several additional awards were also presented earlier at the Alumni Induction Awards Breakfast.
Adult Education Christian Ministry Award: A cash award to the adult education graduates who have evidenced outstanding academic achievement, spiritual maturity and involvement in ministry—Nathali Santiago (online), Lynette Yost (on campus)
Ally Center Scholar Award: A cash award to the graduate who has evidenced outstanding academic, spiritual and social progress—Sharlie Taylor
Graduate School Servant Leadership Award: A cash award to the master's degree graduate who has evidenced outstanding scholarship, a servant's heart and leadership skills—Grace P.
Seminary Education and Servant Leadership Award: A cash award to the seminary master's degree graduate who has evidenced the traits of being a reflective practitioner, having a servant's heart and displaying exceptional leadership for global kingdom impact—Richard Sparling
Joshua 1:9 Award: A cash award to the graduate who has shown great strength and courage in the midst of difficult circumstances in pursuit of his or her college education (minimum GPA of 2.5)—Jeremy Snader
Valedictorian: A cash award to the graduate with the highest grade point average (bachelor's degree student with a minimum of 75 hours completed at Lancaster Bible College)—Sean Graybill
An LBC | Capital Ph.D. Student Comes Full Circle
One graduate who celebrated his Ph.D. in Biblical Studies at LBC | Capital's graduation ceremony has an amazing story of coming full circle.
Tim Lease is the son of Lancaster Bible College's third President, Dr. Stuart Lease. Tim had walked away from God, but at his father's funeral, he met then-LBC | Capital President Dr. Peter W. Teague, who reached out to Tim, began meeting with him regularly and, over time, had the joy of seeing him come back into fellowship with the Lord.
Dr. Teague also experienced joy in officiating Tim's marriage to his wife, Bridget, on the Lancaster Bible College campus. Since then, Tim earned his Master of Arts in Biblical Studies in 2015 and has served the college as an Adjunct Professor in the Bible & Theology Department.
According to sentiments read during his hooding ceremony, "Tim would like to thank President Emeritus Dr. Peter W. Teague for his ongoing friendship and support, as well as Dr. Mark Meyer, whose mentorship and guidance have paved the path of learning. Dr. Doug Finkbeiner has also served an important role during this time. Tim has been blessed to have experienced the profound work of his Lord Jesus Christ, the 'Miracle Counselor,' in the transformation his life. He looks forward to sharing that message of hope with others through ministry and testimony. …Having grown up on the LBC campus as a child, Tim wishes to exhibit the same passion and desire to share Christ with young people that he first witnessed in his father and that was modeled by those under whom he has studied."
Last year, Tim successfully defended his Ph.D. dissertation, "The Messianic Expectation of the פֶּ֠לֶא יוֹעֵץ֙ in Isaiah 9:5 as Fulfilled in the Ministry of Jesus of Nazareth."