Several Lancaster Bible College students spent the morning of April 24 arguing whether a business owner had burned down her own establishment as part of a grand insurance scheme.
The conversation, however, didn't take place around the lunch table in Olewine Dining Commons or over a cup of coffee in Hollee's Café. As part of the annual spring mock trial led by LBC's Criminal Justice & Legal Studies program, students rose to the challenges of prosecution and defense.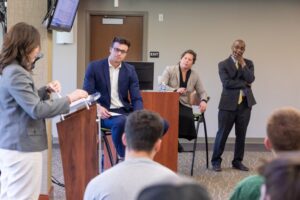 Spearheaded by Criminal Justice Program Director John Churchville, JD, and Criminal Justice Assistant Professor Dr. Jevon Thompson ('10), the 2023 mock trial focused on an arson case, as LBC seniors took on juniors to show off their litigation and acting skills. Both sides aimed to answer a key question: Did "Dakota Sutcliffe" really set fire to her business to gain over $1 million in insurance funds?
Key to the case was the defense team—Lisa Pause ('23) as the defendant; Brenden Ohlemacher-Lonetti ('23), eyewitness; Andrew Zentner ('23), expert witness; Johnathan Thomas ('25), witness; Aaron Rega ('23), attorney; Benjamin Snyder ('23), attorney; and Cesar Flores ('23), attorney—and the prosecution—James Snyder ('24), attorney and team manager; Sydni Jennings ('24), opening statement; Katelynn Perrotta ('24), closing argument; James Buccolo ('26), eyewitness; Adam Stoltzfus ('23), expert witness; Elaina Dinse ('24), expert witness; Naomi Ewing ('23), attorney; and Jenna Dombach ('24), attorney. Students' friends and family also served as jurors and spectators.
Churchville said the benefits of the mock trial were many, as LBC students "get hands-on, practical experience for those considering a career in policing, paralegal studies, victim assistance or trial law." The trial also allowed majors within Criminal Justice, a program offered both on-campus in Lancaster as well as online, to "see the level of detail, collaboration, investigation, preparation and organization that goes into a civil, criminal or administrative case," he added.
Dinse, a Criminal Justice major, said the "great experience … has started to prepare me of what life could be like after graduation." For her, one of many bright spots in LBC's Criminal Justice program is "Professor Churchville!" she answered enthusiastically. "He has taught each of us so much and has helped me build so many amazing connections in the legal field."
Dinse also said she appreciates "how I am able to integrate my faith in every aspect of my life. I feel that God is a part of my classes, friendships and soccer." With three years of criminal justice and legal studies experience, Dinse will work this summer at the Lancaster Bar Association and will also spend time interning at a local law firm.
Dinse's fellow Criminal Justice major, Dombach focused mainly on direct questioning and cross-examination. She noted that the mock trial has been valuable in preparing for, pun intended, "trial and error."
"Writing things down on paper versus actually putting them into practice are two completely different things," she shared. "It was extremely valuable to practice speaking things with confidence, whether it was a rebuttal for an objection or questioning witnesses."
Within the Criminal Justice program, Dombach also appreciates Churchville's leadership and dedication "to truly understand his students and help them on their journey. … He strives to provide opportunities for you based off your giftings and interests, which is a huge blessing."
At LBC, Dombach said she is grateful the college "provides so many different perspectives but emphasizes the most important one, a biblical perspective. The professors do an amazing job at instilling this into the students and taking time to invest in our lives."
Another Criminal Justice major, James Snyder, said the lessons learned leading up to the event were invaluable.
"I think the thing that has been most valuable about preparing for the mock trial has been being able to better understand the justice system, learning how to break a case down into its elements and really just seeing how God has used each of our unique gifts to contribute to something we all can be proud of," he said.
Snyder also remarked that he is grateful for one element of the Criminal Justice program that might be a surprise coming from a Bible college student—competitiveness. "It really pushes you to be your best," he said, "but we all still come beside one another if we need help and encourage one another."
The junior, who will be working this summer in Asset Protection at Target while he prepares to take the rigorous LSAT (Law School Admission Test) in the fall, added what he values most about LBC: "It's an incredible environment to learn the profession I want to go into, while bringing a biblical perspective into it. Having the foundation that LBC gives us is so integral to our ministry in whatever field we choose."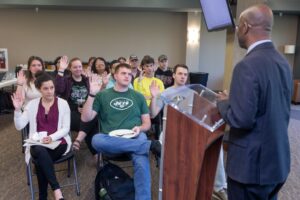 As another "Attorney Snyder" for the mock trial, Benjamin Snyder said he appreciated that LBC's Criminal Justice program utilized an official college-level case from the American Mock Trial Association for the 2023 event. "This trial better prepares those looking at attending law school for some of its expectations and challenges and gives the participants an opportunity to take more personal responsibility for the success of their team and the manner in which they will argue their case," he said.
This summer, the aspiring lawyer will pursue his interest in immigration law and enter Villanova University's VIISTA (Villanova Interdisciplinary Immigration Studies Training for Advocates) immigration studies program. Preparation for this significant step was formulated at LBC.
"For me, the best aspect of the Criminal Justice program at LBC has been the opportunities I have had throughout my time here to gain the practical skills and experiences that employers look for," he said. "The faculty have done an excellent job at giving me opportunities many students do not get until making the investment in a graduate education.
"The part I appreciate most about LBC is the personal connections I have made with staff and faculty," Snyder continued. "They have cared about me as a Christian, as a man and as a student. The life lessons they have taught me through their vulnerability and earnest engagement in the classroom are irreplaceable."
Check out the intense action from the trial—the judge ruled in favor of the defense!