To help kick off an exciting new academic year, Lancaster Bible College welcomed Mia McMonagle, RN BSN, as the new Campus Nurse in August.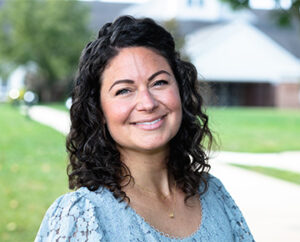 With extensive work experience in intensive care, outpatient cardiology and college health, McMonagle has experienced many different perspectives and clientele since becoming a nurse in 2009.
She finds working with college students to be very rewarding, a role that has helped McMonagle grow both professionally and personally. Some of her favorite details about collaborating with students is getting to know them individually and enhancing their implementation of a healthy lifestyle.
Through LBC's partnership with Penn Medicine, McMonagle is eager to incorporate education within the college's Wellness Center, which is located in Upper Miller Hall and open 9 a.m. to 2:30 p.m. Monday-Friday. In her free time, McMonagle enjoys gardening, baking, hiking and spending time outside with her family. Read more about her heart for college students in the Q&A below.
Q: What are your passions when it comes to the health and wellness of college students?
A: "I love working with college students! My favorite part is getting to know them all individually and helping students achieve positive and impactful healthcare solutions. College life can be difficult at times, and I understand that. My goal is to help influence healthy and long-lasting practices that can make a difference in someone's wellness journey."
Q: What are you most looking forward to about being part of the LBC community?
A: "The LBC community has already been so warm and welcoming! I am looking forward to collaborating with both colleagues and students in an effort to make the campus experience even more safe and enjoyable for everyone."
Q: Can you share some of the wellness initiatives you have planned for this academic year?
A: "I am eager to jump into the execution of Fresh Check Day [planned for March 7, 2024], an exciting event that focuses on normalizing mental health awareness and destigmatizes asking for help. Additionally, I hope to implement smaller initiatives such as dorm rounds, lunch and learns, walk and talks, and some other educational efforts. Please reach out if there is a topic you wish to be covered! It is a pleasure to serve LBC!"