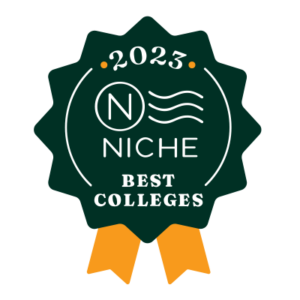 Lancaster Bible College | Capital Seminary & Graduate School has been named the No. 2 Best Christian College in Pennsylvania by Niche.com for its 2023 college rankings.
Niche.com is a "market leader in connecting colleges and schools with students and families. With in-depth profiles on every school and college in America, over 140 million reviews and ratings, and powerful search and data tools, Niche helps millions of students and families find and enroll in the right school for them. For schools, school districts, and communities, Niche's platform, data and services help thousands of schools recruit and enroll more best-fit students."
For the most recent list, the organization ranked just the top three Christian colleges by number for 2023 and offered a general list of the other great Christian colleges across the Keystone State. Rounding out the top three were Susquehanna University in Selinsgrove, Pa.; LBC | Capital, based in Lancaster, Pa., with locations also in Philadelphia and Washington, D.C., and online; and Messiah University in Mechanicsburg, Pa.
Student and alumni five-star reviews helped tell the story of why LBC | Capital garnered a top spot this year in the Niche.com rankings:
"LBC is one of the greatest schools I've ever had the pleasure of attending. The moment I first stepped onto campus, I felt as if I were finally home. The teachers do a great job of guiding and working with students. The dorms are spacious and … in these first two semesters of attending, I have learned much."
"I love the school so much! I have had a great experience with everyone from admissions! I am so excited to say that I will be attending Lancaster Bible College in the Fall of 2023!"
"I was just accepted to Lancaster Bible and so far the experience has been great. They are so helpful and supportive and want to see each student succeed. I am so grateful for this experience."
"Lancaster Bible is a very welcoming college. Everyone here is very down to earth, You can tell they really know the Lord! I could not have felt any more at home when visiting this school! I highly recommend Lancaster Bible!"
According to Niche.com, the "2023 Best Christian Colleges ranking is based on key statistics and student reviews using data from the U.S. Department of Education. The top-ranked Christian colleges are leading academic institutions that offer students an education and college experience rooted in Christian traditions and faith. This year's rankings have reduced the weight of ACT/SAT scores to reflect a general de-emphasis on test scores in the college admissions process. Read more on how this ranking was calculated."
LBC | Capital was also named to the top 50 schools on the 2023 Best Colleges for Religious Studies in America list. Ranked at No. 45 of 392 schools, LBC | Capital joins elite colleges and universities such as Yale, Harvard, Duke, Princeton and Rice universities for the ranking.
Another of LBC | Capital's Niche reviews including this endorsement: "Lancaster Bible College allowed me to earn my bachelor's from home as I raised a young family and worked full-time. It gave me the freedom to complete classwork late into the night when my children were sleeping. The professors were excellent and were deeply invested in the lives of their students. I graduated with a wealth of applicable knowledge, an increased sense of direction and purpose, as well as the ability to pursue an upwardly mobile career. I highly recommend Lancaster Bible (College)…!"