(This article originally appeared in LBC | Capital's ECHO Magazine.)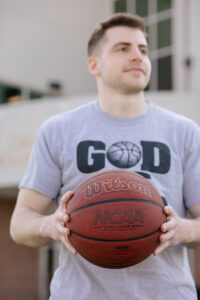 Through his volunteer service in both prison ministry and at a 2022 weeklong summer camp Clarkston, Ga., for refugee children. Nick Songster ('22) gets to witness life change. The Pastoral Ministry major has been volunteering with prison ministry since being introduced to Push The Rock, a sports ministry that goes into state prisons to play basketball with inmates. During halftime, volunteers share the gospel and their personal testimony. Post-game conversations help build the relationship further.
Songster began volunteering during his senior year of high school and has loved it ever since. Until COVID-19 limited interactions, he had visited prisons weekly to play basketball and minister to the inmates in many prisons around Pennsylvania—such as State Correctional Institutes Camp Hill, Phoenix, Mahanoy, Frackville, Dallas, Retreat, Rockview, Waymart, Benner Township, Coal Township and Graterford, which closed in 2018—as well as Federal Correctional Institute Fairton in New Jersey. Today, Nick remains in contact with friends at these prisons even though visitation opportunities have stopped during the pandemic.
Songster never felt uncomfortable going into the prisons and was even able to relate to the men and what they were going through. "I grew up in a household where family and friends were in and out of jail a lot and in the system," he explained. "That world was always very familiar to me. The realities of drugs, crime—that culture was something I grew up around. It was almost natural for me to interact with the guys in there."
Prison ministry is important to Songster because he knows the struggles inmates face but also because of the way prisons are generally viewed by those on the outside. "In American culture, prisons are looked down upon. People in prison are forgotten and pushed to the side, especially in the Church," he said. "People are very unwilling to engage with the idea of prison ministry."
Songster emphasizes the blessings of serving in prison ministry that are often missed by those who feel too uncomfortable to give it a try. "Through my experience, I've been so blessed to meet incredible people that are really just like you and me—in need of the gospel."
God has given Songster a passion to be used by Him to provide light and hope in a dark place. He has encountered faithful believers who influence his faith, as well as those in need of the gospel who provide opportunities for him to have meaningful conversations where he is able to share his faith and answer people's tough questions.
Songster considers it a joy to be used by God to be there for the inmates, even when he suffers along with them in their struggles. And he hopes people will see those in prison as people created in the image of God.
"We are all just one mistake away from finding ourselves on the other side of those bars," Songster said. "If we're able to view these men and women as meaningful beings created in the image of God, then we're able to break down some barriers and begin the process of relating to one another and really loving one another."