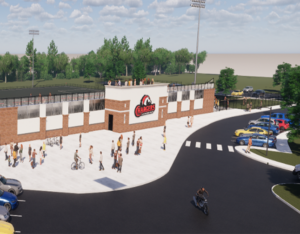 Lancaster Bible College and the LBC Athletic Department are rejoicing with thankfulness, as the college has announced that Phase II of the Donald H. Funk Field Stadium Project has been fully funded, and construction will begin in March.
On Feb. 3, student-athletes from Lancaster Bible College held a day of giving for the stadium project. The group's hard work led to $20,000 in giving, but unbeknownst to the group, a check for $1 million was mailed that day as well from a friend of the college. The check was received on Feb. 5, and an announcement to the student body and college staff was made the week of Feb. 8 during chapel.
"As Dr. Kiedis said in his announcement during chapel, I think we were grateful for the students on campus who took the initiative to move this project forward, and in God's providence, the balance of the money that was needed arrived two days later," said LBC | Capital Vice President for Advancement Scott Keating. "This friend of the college said they wanted to see the college get some of its projects completed, and this gift was made for the glory of God."
Director of Athletics Pete Beers said the gift was an amazing reminder of the awesomeness of the Lord.
"It was great to see the student-athletes want to help, work hard and raise a great amount of money," Beers said. "And then a huge gift comes in and we realize, we can do our best, but in the end, God is in control. He appreciates our efforts, but values even more our dependence, and then takes care of us and provides in a wonderful way."
Beers also hopes the completion of Phase II for the Donald H. Funk Field Stadium Project will continue to expand the platform for Lancaster Bible Athletics.
"I hope this project continues to expand our platform and reach for the glory of God," Beers said. "The second phase of this process has seen us go through different seasons of trials, frustrations, and joys, and it continues to amaze me how the Lord provides."
With construction on Phase II beginning in mid-March, the current plan calls for construction and the remainder of the project to be completed prior to the start of the 2021-22 academic year.