Through an innovative web series called "Journey Through the Author Bank," high school students interested in a liberal arts education can "discover history's greatest authors with the nation's top liberal arts universities."
The host, Classic Learning Test (CLT), invites renowned professors from colleges and universities to regular live, online seminars so students can learn more about the men and women who have shaped their intellectual heritage.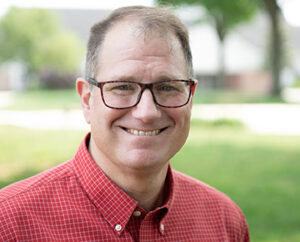 In January 2023, Dr. Mark Draper, Director of the Lancaster Bible College Charles & Gloria Jones Library and Associate Professor in the Bible & Theology Department, introduced webinar participants to reformer and theologian John Calvin.
Draper's talk on this French theologian and pastor, who lived from 1509-1564 and published "Institutes of the Christian Religion," had more than 2,700 views within the first 10 days of posting. [Watch Dr. Draper's online address and access his research guide.]
"Prior to the Protestant Reformation, Christendom in western Europe and the marriage between the Church and state were rooted in Catholic theology," Draper said. "John Calvin, as a second-generation reformer, developed the most comprehensive reorientation of Christendom, in the Republic of Geneva, rooted in Protestant theology. Many of his ideas were transported to the shores of North America by the Puritans and other Reformed Christians and played a significant role in the construction of the American Republic."
Classic Learning Test's "Journey Through the Author Bank" series seeks to explore the minds of history's most profound and influential authors in a live format. Participants can also interact with professors, ask discussion questions and learn more about each college or university represented. Join the mailing list to get updates about future seminars.
The Classic Learning Test was developed as a college entrance exam to take advantage of contemporary technology, thereby testing students on more engaging material. Over 200 colleges and universities across North America, including Lancaster Bible College, accept CLT scores as part of their admissions process, just as the SAT or ACT may be accepted. In addition, many schools have tied thousands of dollars in scholarships directly to a student's CLT score.
LBC's undergraduate Admissions Office shared that the CLT, which has been a testing option since 2015, is a beneficial choice for students for several reasons:
1. The CLT can be completed in about two hours, while the ACT and SAT tests take about three hours.
2. The CLT can be taken remotely from the comfort of one's own home. Because of this, the CLT gained immense popularity during the 2020 pandemic when many testing sites were closed.
3. Prospective college students who use the code "LBC20" will receive 20% off the cost of their test.
4. The CLT offers test dates about once per month. And while taking this college entrance exam sooner rather than later is beneficial, students could take the CLT as late as summer and potentially enroll at LBC in the fall, provided all other admissions materials are finalized.
LBC Admissions also noted that Lancaster Bible College does not have a testing requirement as part of the acceptance process, but additional academic scholarships may be available for students who choose to submit test results such as the CLT.