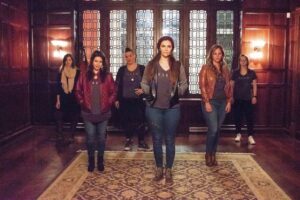 The Trust Performing Arts Center will host SEEN Collective April 10 for an evening of storytelling through song. The performance is set for 7:30 p.m. at The Trust, 37 N. Market St., Lancaster. Tickets are available now for purchase and can be reserved at lbc.edu/events or lancastertrust.com/events.
Through original music and inspiring performances led by Sight & Sound Theatres writer and Lancaster Bible College Adjunct Professor Kristen Brewer, SEEN highlights the stories of prominent women in the Bible and the God who saw them for who they were.
SEEN Collective's first EP in 2018, "SEEN," highlighted the stories of Leah, Rebekah and Tamar. The 2021 followup album, "SEEN: In the Line," tells the stories of the women from Jesus' family lineage—from Eve, Noah's wife and Sarah to Rahab, Ruth & Naomi, Bathsheba and Elizabeth & Mary—and includes the new single, "I Am Seen." For more information on SEEN Collective, visit seen-collective.com.
The Trust Performing Arts Center is an architecturally stunning venue for music, theatre, dance, lectures and community events in the heart of Lancaster's downtown arts district. In 1912, the Lancaster Trust Company completed construction on its new headquarters—a Beaux-Arts masterpiece from the imagination of Lancaster's leading architect, C. Emlen Urban. A century later, Mr. Urban's architectural treasure has been re-imagined by Lancaster Bible College as The Trust Performing Arts Center. The Trust has a mission to honor God by encouraging excellence in the work of student and professional artists and by enriching the community through inspiring, challenging and redemptive experiences.