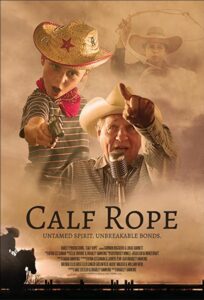 A short film co-produced and edited by LBC | Capital's own Ryan Geesaman is wrangling up award after award.
Most recently, the film called "Calf Rope" took third place for Best Short Film at the International Christian Film & Music Festival and was also chosen as Best of the Fest at the Dreams Come True Film Festival, where it also received nods for Best Faith-Based Film, Best Director, Best Writing, Best Supporting Actress, Best Juvenile Actor, Best Trailer and Best Movie Poster.
Additionally, this spring, "Calf Rope" won big at the Branson International Film Festival, taking home the Agape Award for outstanding achievement in all aspects of filmmaking by an indie Christian filmmaker and their team. "Calf Rope" also won Best Actor, Best Supporting Actress, Best Young Actor and Best Children's Film. The complete list of awards for "Calf Rope," which also includes accolades from the Maverick Movie Awards, Hang Onto Your Shorts Film Festival, the Wild Bunch Film Festival and many more, may be found at calf-rope.com/awards.
Directed by award-winning filmmaker Bradley Hawkins and produced by Dadley Productions, "Calf Rope" is the heartwarming tale of love, legacy and the special bond between a grandfather and his grandson. Released in June 2020, the film continues to see success on the global film festival circuit.
According to the film synopsis by Hawkins on IMDb, "Calf Rope is a tender short film about a former rodeo champion and cattle auctioneer from Oklahoma that bonds tightly with his young grandson from Pennsylvania during the summer of '66 while teaching him a few tricks from his previous trades. Shot entirely in the Central Pennsylvania region, Calf Rope captures the intense love that grandparents often have for their grandchildren and the legacy that often lives on, long after they have gone."
Filming locations included Bube's Brewery in Mount Joy, The New Main Theater in Ephrata, Landisville Camp Meeting and Shale Knoll Arena in Annville.
Thanks to Geesaman's award-winning involvement with the film as co-producer and editor, LBC | Capital students had the chance to screen "Calf Rope" as part of their Communication studies at the college. As the Chair of the Communication Department and Director of the program formerly known as Live Production, Geesaman shared that this popular program among students was renamed the Media Arts Production program in the summer of 2021. This name change also ushers in two new specializations within the major: Film & Video and Audio & Music Recording.
"As faculty, we strive to take our experiences and provide the students with both the knowledge and practical skills necessary to be successful in various areas of the communication field—both today and in the future," Geesaman said of the opportunities of Communication and Media Arts students at LBC. "Every company and organization needs competent communication professionals with integrity, and learning through a biblical worldview gives our students an advantage in that respect."
Follow more news about "Calf Rope" at the film's Facebook or Instagram accounts or at calf-rope.com. The film will be screened as part of the Red Rose Film Festival at Zoetropolis Cinema Stillhouse in downtown Lancaster at 7 p.m. Thursday, July 15. Tickets are free and can be reserved at zoetropolis.com/film-series/film-festivals.
Check out a few behind-the-scenes photos from "Calf Rope" below…