(The following is an excerpt from the blog of LBC | Capital President Dr. Tommy Kiedis, who writes at "Don't Ask the Fish," as well as other sites.)
Jabez called out to the God of Israel, "If only you would greatly bless me and expand my territory!
May your hand be with me! Keep me from harm so I might not endure pain!" God answered his prayer. — 1 Chronicles 4: 10 NET
I am not a fan of speed bumps. They interrupt my ride, threaten my pace and present challenges for a guy who drives modified (i.e. fast and lowered) cars. But this morning God put a speed bump in my path and I couldn't be happier.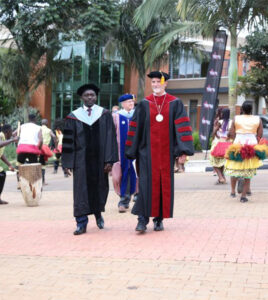 Recently, after twenty hours in the air, Shannan and I arrived in Kampala Uganda to join friends from the Pastors Discipleship Network for a few days of seeing God's good work in this city and to celebrate with graduates from our educational partnership.
Uganda is "The Pearl Of Africa," Kampala its capital and largest city with some 7 million people within its metropolitan circle. Kampala is a mixture of squalid and exquisite; beautiful highways and dusty dirt roads, multinational companies and a thousand mom and pops. This is the land of generous hosts, smiles that light up a room and the ever-present Boda Boda (motorcycle taxi).
As we drove from the airport in neighboring Entebbe to our hotel, we were greeted with tropical scenery and some crazy traffic. The Grand Prix circuit has nothing on drivers from Kampala. We're talking side-by-side competition for the lane and the lead. And then there were those Boda Boda drivers toting passenger(s) and products all while contending for blacktop with vehicles that out-wheeled them and outweighed them.
The scenes that greeted me were as juxtaposed as the security of my vehicle (a nine-passenger van) and the dude on the Boda Boda taking his daily death ride. There were palatial homes contrasted with one-room huts with a drawn curtain for a door. There were individuals in air-conditioned sedans contrasted with women walking dirt paths balancing forty pounds of goods on their heads. There was Lake Victoria, the second-largest fresh-water lake in the world contrasted with the "stream" on the side of the road filled with trash and sewage, and animals, and kids. There were high-rise towers contrasted with the people turning coals in their street-side cafe's. It was Bodas Bodas, cars, goats, bulls, businesses, and people people people in a maze of activity.
God, are you seeing what I am seeing? Do you know? Do you care?
Continue reading at Dr. Kiedis' blog, "Don't Ask the Fish…"