The Square Halo Gallery within The Trust Performing Arts Center in downtown Lancaster will host an Irish-inspired show in March and April 2023.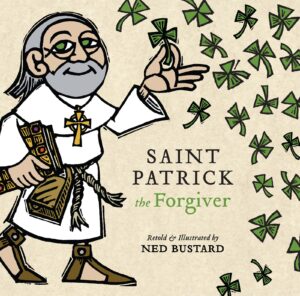 Just in time for St. Patrick's Day, the spring exhibit will feature printmaking from Lancaster County illustrator, graphic designer and curator Ned Bustard. His two new books are "Saint Patrick the Forgiver," a children's book published Feb. 21 by IVP Kids, and "33: Reflections on the Gospel of Saint John," a book of Irish poetry with art inspired by the well-known "Book of Kells," a manuscript gospel book in Latin.
On March 3, a book release party for "Saint Patrick the Forgiver" will kick off Lancaster's First Fridays from 6 to 9 p.m. at the gallery, 37 N. Market St. The story highlights Patrick, the greatest bishop of Ireland, who actually wasn't Irish. Combining Patrick's words from his Confessions with a few of the legends about him, the whimsical retelling teaches families about the fascinating life of the real saint and helps them discover a remarkable story of love and forgiveness along the way.
Then on March 17, The Row House will host a lecture on St. Patrick at 7 p.m. at The Trust, where Graham Dennis will share a holy and wild tale that challenges many of assumptions about Patrick. Tickets are $12.50 in advance and $17.50 at door. Row House members plus one guest are admitted free. Details are available at therowhouse.org.
In May, the gallery will welcome select student artists from Messiah University, and the summer show will focus on the art of a pioneer in the art and faith movement of the past several decades—Sandra Bowden.
Square Halo Gallery is a space for contemporary art inspired by the Christian faith. Part of the Lancaster City Art Galleries & Museums, the gallery's exhibits change every other month. The gallery is open 6-9 p.m. on First Fridays, by appointment and during events at The Trust. Learn more at squarehalobooks.com or on Instagram @squarehalogallery.
The Trust Performing Arts Center is an architecturally stunning venue for music, theatre, dance, lectures and community events in the heart of Lancaster's downtown arts district. In 1912, the Lancaster Trust Company completed construction on its new headquarters—a Beaux-Arts masterpiece from the imagination of Lancaster's leading architect, C. Emlen Urban. A century later, Mr. Urban's architectural treasure has been re-imagined by Lancaster Bible College as The Trust Performing Arts Center. The Trust has a mission to honor God by encouraging excellence in the work of student and professional artists and by enriching the community through inspiring, challenging and redemptive experiences.