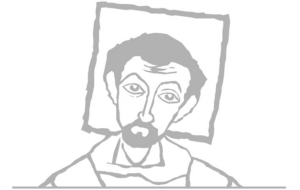 In Christian art, a square halo identified a living person who was presumed to be a saint. This square halo concept is also the focus for the winter 2023 art show at the Square Halo Gallery within The Trust Performing Arts Center in downtown Lancaster.
The all-ages open arts invitational that runs through the end of February features work from artists from New York, Texas and England, as well as many local artists. Any work containing a square was considered for the exhibit.
The show is in conjunction with the 2023 Square Halo Conference on Feb. 17-18 titled "Ordinary Saints—Creativity, Collaboration & Community." This year's conference celebrates the 25th anniversary of Square Halo Books, an independent publisher of works that "present contextually sensitive biblical studies and practical instruction consistent with the Doctrines of the Reformation. The goal of Square Halo Books is to provide materials useful for encouraging and equipping the saints." Learn more about the conference with keynote speaker, author poet and songwriter Malcolm Guite at squarehalobooks.com/conferences#/2023-conference.
Future 2023 exhibits include an Irish-themed show in March and April that will display printmaking from two new books by Ned Bustard: "Saint Patrick the Forgiver" from IVP Kids and "33: Reflections on the Gospel of Saint John" from Square Halo Books. In May, the gallery will welcome select student artists from Messiah University, and the summer show will focus on the art of a pioneer in the art and faith movement of the past several decades—Sandra Bowden.
Square Halo Gallery is a space for contemporary art inspired by the Christian faith. Part of the Lancaster City Art Galleries & Museums, the gallery's exhibits change every other month. The gallery is open 6-9 p.m. on First Fridays, by appointment and during events at The Trust. Learn more at squarehalobooks.com or on Instagram @squarehalogallery.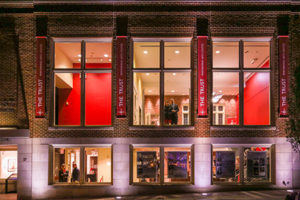 The Trust Performing Arts Center is an architecturally stunning venue for music, theatre, dance, lectures and community events in the heart of Lancaster's downtown arts district. In 1912, the Lancaster Trust Company completed construction on its new headquarters—a Beaux-Arts masterpiece from the imagination of Lancaster's leading architect, C. Emlen Urban. A century later, Mr. Urban's architectural treasure has been re-imagined by Lancaster Bible College as The Trust Performing Arts Center. The Trust has a mission to honor God by encouraging excellence in the work of student and professional artists and by enriching the community through inspiring, challenging and redemptive experiences.