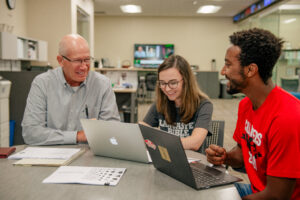 The Lancaster Bible College Student Business Collective is a business club founded in 2017 to better the LBC business student experience by promoting collaboration among students and partnerships with the local business community.
The club accomplishes the first part of the mission, creating collaboration among students, through fun events on campus each month for Business Administration, Marketing and Accounting majors. Activities are as simple as lunches in the Business Suite to something more complex, such as putting together the annual business retreat.
The second part of the mission, creating partnerships with the local business community, is achieved through networking events such as mentor mixers and job fairs that help students make connections with local businesses. As an example, the Business Department has developed a great relationship with Clark Associates, as several students are placed in internships and permanent jobs there.
The Student Business Collective is made up of five student leaders who plan events with a vision to be a premier business student community, a distinguishing feature of the LBC student body and a leader of innovation and collaboration.
The Business Administration major was founded in 2014 by Martin Sauer and only took a few years to become one of the most popular majors at LBC. This success is due in part to the expertise of the instructors, who teach from their own experience in business and demonstrate to students how to be on-mission with Christ in the business world and to think and live a biblical worldview in life and business.
When I asked Sauer why he wanted to create a Business Administration major at LBC, he said, "My original intent was to follow God's leading and do what He wanted me to do. It turns out that was to develop a program different from any other educational program—one that teaches students how to live a godly life in companies that are not necessarily run by believers. What makes us different is that we use business professionals as our instructors. This way, the students learn from people who have real-life experience."
He went on to explain what sets LBC's Business Administration Department apart from other higher education institutions. "All the business instructors are businesspeople God has called out of the business world. All are there for the students and the students only. We spend time getting to know them and help them individually to identify skills and interests."
Through sharing stories, experiences and their business knowledge, instructors are able to inspire students such as myself to be intentional about their purpose in life and to go into business for God's glory.
(Sarah Mehesy is a Business Administration major from Elizabethtown, Pennsylvania, who serves as the Vice President of LBC's Student Business Collective.)