The newest episode of "American Pickers," one of the most popular reality shows on television and a hit for The HISTORY Channel, features the family business of a Lancaster Bible College Pastoral Ministry major.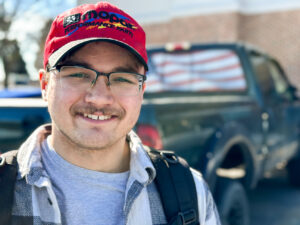 In the episode titled "Junkyard Jewels," airing at 9 p.m. EST Wednesday, Feb. 15, Cooper Ray ('24) introduces the Pickers to his father, Glenn, owner of G&R Excavating and Demolition in Tyrone, Pa. Cooper, now 22, has been involved in the business since he was 8 years old. Glenn has been salvaging items from various job sites for decades, reports WJAC [watch the newscast here], and his massive collection caught the eyes of the Pickers.
Now in its 24th season, the "American Pickers" crew, headed by hosts Robbie Wolfe and "Jersey Jon" Szalay, visited three of the Ray properties.
"The filming was very interesting," Cooper says, "Due to 'American Pickers' popularity, they have to stage a lot of things in the show. For example, I introduce the Pickers to my dad."
While studying at LBC to become a pastor, Cooper shares that the relationships he's formed with faculty have been a highlight.
"The best thing about LBC to me is the personal relationship I have with professors and advisors on campus," he says. "Some that I really appreciate are Dr. (Casey) Barton, Dr. (Timothy) Nicholls and Dr. (Geoffrey) Reiter. These are some of the professors I can meet with for personal and emotional support."
"American Pickers" focuses on three dedicated salvagers who traverse the country looking for hidden gems. According to history.com, "This isn't your grandmother's antiquing. The American Pickers are on a mission to recycle America, even if it means diving into countless piles of grimy junk or getting chased off a gun-wielding homeowner's land. Hitting back roads from coast to coast, the Pickers earn a living by restoring forgotten relics to their former glory, transforming one person's trash into another's treasure."