(This article originally appeared in the Winter 2023 ECHO Magazine.)
UPDATE! LBC Business Administration major Sydney Heller ('25) is hosting the Rejoice Bibles Art Camp this summer Quakertown, Pa., for young artists from fifth through 12th grade. Participants at the July 17-21 event will learn how to paint and create their own journaling Bible, with daily devotionals about how to creatively interact with the living Word of God led by Heller.
The week will also consist of painting a Bible cover for the Uganda-based Asifwe nonprofit organization, which has a mission to care for Africa's most vulnerable children by providing a loving family, an education with academic and practical life skills, medical care, and spiritual and emotional support. Learn more about Sydney's art camp here.
---
Artistically Studying God's Word
What started as a creative outlet turned into a business opportunity for Sydney Heller ('25).
While in high school, Sydney painted Bible covers as a hobby and a way to bless her friends. During her junior year, she began to take her talent more seriously. "I felt a lot of encouragement," she said as she looked back on the orders from those in her church and school. After the LBC Business Administration major talked to her dad, Sydney looked into starting her own Bible painting business, which led to the creation of a website and social media accounts for Rejoice Bibles.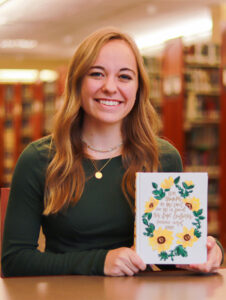 "I loved the word 'rejoice' and how it is seen throughout the Bible and how our joy in the Lord shines, especially when we are in the Word," she shared.
Bible journaling has had a significant impact on Sydney's testimony. When she was young, she received her first journaling Bible, which led to her forming a passion for artistically studying God's Word. "I always make journaling Bibles because of how that's impacted me," she said, adding that it's been such a "cool experience" to hear customers share in her excitement as they open God's Word when they receive one of her Bibles.
Art has played a significant role in Sydney's life from an early age. Not only was her grandfather a professional artist, but she also spent much time as a child painting while her brother drew.
"I always tell people this: When I first started painting, before I started getting into Bibles, I remember making a commitment—I guess you could say to myself—that whatever I paint, it's going to be for the Lord," Sydney explained. Regardless of what Sydney creates, it's not random but instead has the purpose of bringing honor and glory to her Maker.
The Bibles Sydney sells are made of canvas, and her customers have the creative liberty to either choose from an array of designs or request a custom print through her website. Sydney paints the Bible covers with acrylic paint and designs journals as well. Her custom painting process takes about two weeks, and of all the months of the year, the Christmas season and summer months are the busiest times.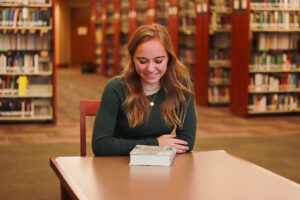 Being a student in LBC | Capital's Business Administration Department has encouraged and equipped Sydney in her endeavors. She explained how helpful it has been to be in business and marketing classes while running a small company. The sincere faith of her fellow LBC students, as well as the encouragement from friends, faculty members and coaches have also been immense blessings in her life.
In addition to being a full-time student with a business, Sydney is a guard for the women's basketball team, a sprinter on the track & field team and serves as the social media coordinator of her church. How does she handle so many roles? Sydney shared that she isn't someone who often gets stressed but has learned to become a "big planner." In the busiest seasons, she finds creative ways to keep her business running from her dorm room and travels home to West Rockhill, Pa., some weekends to meet her non-school-related responsibilities.
If there are two words of encouragement to those who have a passion for business using their God-given talents, it's "don't wait" but rather take the opportunities God presents.
So many people have cheered on Sydney in her Rejoice Bibles journey; her family, in particular, have been some of her biggest fans. It can be so easy to give up, explained Sydney, but through the support she has received, she has been able to keep following the Lord's plans and encourages others to do the same.
To learn more about Rejoice Bibles and see some of Sydney's designs, visit rejoicebibles.com or @rejoicebibles on Instagram or Facebook.