Photos by Angie Englerth Photography
For Meagan Good ('14), horses have nearly always been a part of her life. So too, has her love for helping others. So it's not much of a surprise that God in His sovereignty brought these two passions together.
"When I was 15, my parents bought my first horse, who I had helped train," said Good. "That horse got me through some tough years as a teenager. I began to realize that I wanted to do something to help people by using horses." She started researching and reading, and eventually, ". . .  I read a book about how God is using a ranch in Oregon [Crystal Peaks Youth Ranch] to heal broken people with broken horses, and through tears, heard Him tell me this is what I was going to do." In another serendipitous turn of events, she received a flyer in the mail from LBC promoting our counseling program that same day. After that, "I knew that counseling was how God would use me and horses," said Good.
She enrolled in our professional counseling program while dreaming about how God might bring His plans to fruition.  "I was a new Christian when I came to LBC, and eagerly soaked up my undergraduate Bible classes," explained Good. "I learned who God is and His heart to not only save us eternally but to break chains in our lives so we can live free as His beloved children, for His glory. This developed in me a passion to see God's children living out their full identity in Jesus Christ, free from sin and shame, living fully alive in God's love." Following graduation, she and her husband, Grant, visited the same Oregon clinic she had read about years ago. After the visit, she said, "[We] felt God telling us to start our ministry, even though some pieces were still unclear… like only having one horse and not having a farm! We trusted Him to provide and He has."
Now just three years later, Good has accepted a position as an adjunct faculty member at LBC and runs her own practice called Take Heart Counseling & Equine Assisted Therapy, based in Mohnton, Pennsylvania. Nestled on a small wooded property, the practice houses a barn and three horses – named Charley, Noble and Remy – with plans to expand their current facilities in the future. And according to Good, this alternative form of therapy is already making a big difference in the lives of her clients.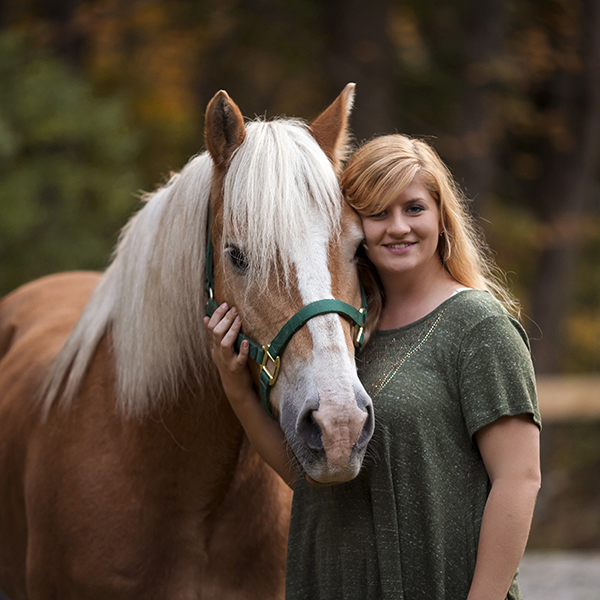 Above: Meagan poses with one of her horses.
"God made horses herd animals, which gives them an incredible empathetic intuition – they can read our feelings sometimes better than we can," she explained. "He also made them honest and authentic; they never lie, and they encourage us to be authentic as well. Because of this, they are incredible feedback-machines. For example, if you are feeling anxious, you might be able to fool your counselor by telling her otherwise – but your horse will notice your body language and emotional energy from 100 yards away. His reaction will be honest, which challenges clients to engage openly in the process." It's in this way that Good can use the animals to dialogue with her patients, who might be unusually guarded and teach them skills for coping and care that they can use with the animals in the barn and in real life. "There is something about building a willing partnership with a 1,000-pound animal – who has a mind of his own, who carries himself with a powerful presence, who demands our respect – that is empowering and an incredible confidence-builder," elaborated Good.
Good explained that the field of equine-assisted therapy is relatively new, and as such, it is overwhelmingly secular. However, she sees it as a chance for Christian counselors to be salt and light to both clients and colleagues. "The world of counseling and therapy has been long overshadowed by secular psychology," she said. "And for too long, the church has feared and stigmatized mental health. There is a need for Christians to branch out into these nontraditional fields," she explained.
Thanks to her education at LBC, Good is well-prepared to do just that. "LBC was foundational for me both as a Christian and a counselor," she said eagerly. "LBC's counseling program, where every class approaches counseling from a psychological, professional, and Biblical point of view, prepared me to help people break those chains with professional and spiritual competency."