A pair of coaches will join the Lancaster Bible College Athletic Department to start the 2023-24 academic year, leading the women's basketball and baseball teams, respectively.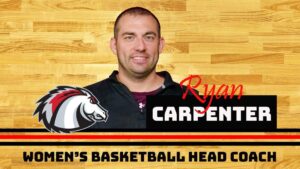 LBC announced in May that Ryan Carpenter ('09) will take the reins of the women's basketball program. Carpenter replaces Joy Tharrington who stepped down in April 2023 to pursue other coaching opportunities.
At LBC, Carpenter played for the men's basketball program from 2005-08. During the 2022-23 season, he served as an assistant coach at NCAA Division II University of Minnesota-Duluth, as the Bulldogs went 32-4 and advanced to the NCAA Division II National Championship game before falling to Ashland University, 78-67. Prior to his stop in Duluth, Carpenter also served as an assistant coach in 2021-22 for the University of Jamestown (N.D.), which is an NAIA school.
After graduating from LBC, Carpenter returned to the Midwest, where he and his wife grew up, and immediately began his coaching career at the high school level, including a successful run as a head coach in Rochester, Minn. Following his success on the high school level, Carpenter made the aforementioned jump to the collegiate level and said the past two years have prepared him for this chance at LBC.
"The past two years have really allowed me to get my feet wet with recruiting," Carpenter explained. "I've always felt confident with strategy on the floor, and the past two years have really helped me learn the recruiting process, as well as the pace of the collegiate game. I've learned from two great head coaches and can't wait to get started at Lancaster Bible."
The idea of coming back to coach at his alma mater isn't lost on Carpenter and his family, and he is excited to be coming back to the area.
"If you would've asked me in 2009 if I would be back to coach here, I'm not sure I would have said yes," Carpenter said. "However, I love the full-circle nature of this and there are still some faces I will recognize, including my former coach Pete Beers (who today serves as Vice President of Traditional Undergraduate Education), as well as men's basketball head coach Jon Mack, who I played against when he coached at Valley Forge. It's an exciting time in the program and the athletic department and my family and I can't wait to be a part of it."
Carpenter has already begun building relationships with the returning members of the LBC women's basketball program and is excited to finalize the roster for the 2023-24 campaign.
"Relationship-building is an extremely important part, not only with the players in the program, but with the coaches and other staff in the department," Carpenter said. "I've greatly enjoyed my interactions with Director of Athletics Rod Baughman and can't wait to learn about Lancaster Bible-specific recruiting from Coach Mack and the other coaches."
Baughman said he very excited to have Carpenter join the Lancaster Bible family and looks forward to his care and leadership of the women's basketball program.
"Ryan was just what we were looking for," Baughman said. "As an alumnus, he both understands and loves Lancaster Bible College. We believe he has the tools to deliver on our promises for student care and discipleship, as well as build and prepare a team for excellence on the court. Recruitment of mission-fit and athletically capable student-athletes will be an extension of who he is, and we love that he values his family and are excited to welcome them into our Charger family."
As he is welcomed to Lancaster, Carpenter hopes to bring stability to the program, as well as build a foundation that is competing for conference championships. After talking to the current student-athletes of the program, Carpenter believes the foundation is strong and the team can compete during the 2023-24 season and beyond.
"I've greatly enjoyed the conversations I've had with the current players," Carpenter said. "They are driven to be better on and off the floor, and I am excited to work with driven players."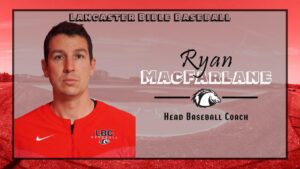 Then in July, the Athletic Department announced the welcome of Ryan MacFarlane as the next head baseball coach for the Chargers. He replaces Caleb Abney, who stepped down following the 2023 season.
MacFarlane served as an assistant coach on last year's team, joining the staff in August 2022. He worked primarily with pitchers during the 2023 campaign and also served as the recruiting coordinator. He helped the Chargers' pitching staff improve from the sixth-best staff in 2022 to the third-best staff in 2023, as LBC reached the United East Playoffs for the second consecutive season.
MacFarlane said last season not only introduced him and his family to LBC but also gave him a great foundation moving forward.
"Last year provided an ideal on-ramp because of the relationships and trust that were built with the guys," MacFarlane explained. "To me, that's foundational in order to have success. Last season, I learned the rhythms of Lancaster Bible and NCAA Division III athletics that will enable me to form a system that works for these student-athletes. Coach Abney also gave us a lot of tools to help shape our offense, which I plan to continue to utilize."
Prior to LBC, MacFarlane coached and worked for Athletes in Action, something he is still involved with. He served at both Michigan State and Virginia Tech, as well as at the home base for AIA in Xenia, Ohio. Before his work career, MacFarlane pitched at NCAA Division I Michigan State and pitched professionally for the Midwest Sliders of the Frontier League during the 2008 season.
MacFarlane said his baseball and leadership experiences over the past 15 years have prepared him for the challenge of being a collegiate head coach.
"Over the last 15 years or so since my playing days in college, my desire has been to develop and encourage men to be who God has made them to be. Having worked with Athletes in Action at several different universities, mentoring athletes in all sports, I got a chance to connect more as a chaplain," MacFarlane said. "I began to realize that my passion to compete and be on the field day in and out had never really left. Four years ago, I started looking for opportunities to coach and found my time in adult leagues and summer collegiate leagues confirmed my thoughts on coaching. I really desired to be able to do it full-time and having the opportunity last year at Lancaster Bible was great. I hoped eventually I would want to be a head coach, but didn't know how that might work out. One thing I've always loved is helping create systems and structures for teams to thrive within, so I'm really looking forward to that element and hoping it leads to wins on the field and in life."
One of the structures MacFarlane hopes to build upon is the family aspect of the LBC baseball program that has been greatly strengthened over the past 15 years.
"My hope is Lancaster Bible baseball would be a family that exemplifies Christ on and off the field," MacFarlane said. "I want our guys to develop as leaders here on campus, so when the go out from here they will be the friends, husbands, fathers, and workers God has called them to be. I want our team to compete for a conference championship every year, as we learn how our effort can be a worship to the Lord."
With one year already under his belt as part of the staff, MacFarlane believes the Chargers are on the cusp of big things because of the trust that has been developed within the program.
"I think relationships and trust are key," MacFarlane said. "Trust takes time to build, and my hope is that we can continue to mesh as a team quickly this fall. The college years go by fast, so I want them to make the most of the time. We have a great group of guys returning who have the opportunity to take this program to the next level."
MacFarlane will begin head coaching duties immediately and said he appreciates the support he has received from so many people over the years.
"I'm very grateful for the chance to lead this team," MacFarlane said. "I want to thank Lancaster Bible Director of Athletics Rod Baughman, the athletics staff, and baseball student-athletes who have believed in me. I'm also appreciative of my colleagues at Athletes in Action who have believed in me and encouraged me for so many years, as they have been God's grace to me. And to my biggest fans, my family and wife, Beth, I can't say thank you enough for all of your support."
LBC will conduct fall practice throughout September and early October as the Chargers prepare for the 2024 season, which gets underway with practices beginning in late January.